News
GOLOVKIN BEATS LEMIEUX TO UNIFY WORLD TITLE
18/10/2015 - 18:05:27
Gennady Golovkin defeats David Lemieux, unifies middleweight titles
Dan Rafael, ESPN Senior Writer
NEW YORK -- Gennady Golovkin delivered yet another big drama show, and another one-sided one, as he knocked out David Lemieux in the eighth round to unify middleweight world titles Saturday night before a raucous, sold-out crowd of 20,548 at Madison Square Garden.

Golovkin methodically broke apart Lemieux in a supreme performance in which he scored his 21st knockout in a row. He retained his title for the 15th time, moving past Hall of Famer Carlos Monzon for second-most in division history and just five away from tying the great Bernard Hopkins' division record of 20.

With presidential candidate Donald Trump among the celebrities at ringside, Golovkin accomplished his long-stated goal to unify belts. He also continued to make his case that he should be recognized as the No. 1 pound-for-pound fighter in the world in the wake of Floyd Mayweather's retirement following his Sept. 12 rout of Andre Berto.

One of boxing's best punchers and most technically sound fighters, Golovkin made it look easy against Lemieux, who many thought could match Golovkin's power. But it was not close when it came to speed, skills and defense.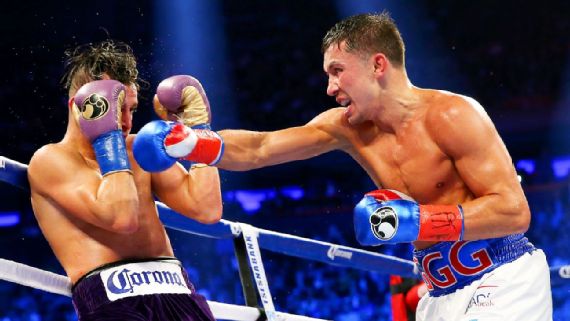 Gennady Golovkin scored his 21st consecutive knockout, stopping David Lemieux in the eighth round of their middleweight title unification bout Saturday night. Ed Mulholland/K2 Promotions
"I told you this was a very important fight. I give my fans and friends a big show," said Golovkin, who was headlining his first HBO PPV event. "Thank you, my fans. Thank you, my people.

"Dave is a very good fighter. A strong fighter," he said. "I can box him, too. I'm a boxer, too. I felt his power, but I was strong tonight, and my punches hurt him. He is a great champion, and I'm glad to beat him."

Said Tom Loeffler, Golovkin's promoter and the managing director of K2 Promotions: "Lemieux was trying to throw big bombs, and he landed a few of them and never was able to hurt him, and Gennady systematically broke him down."

Golovkin dished out a massive beating to Lemieux (34-3, 31 KOs), 26, of Montreal, who never landed anything that troubled Golovkin (34-0, 31 KOs), 33, who is from Kazakhstan and living in Los Angeles.

All Lemieux showed was a champion's heart. When all of the top fighters in and around the middleweight division refused to entertain a fight with Golovkin, it was Lemieux who demanded the fight in his first title defense after winning a belt in June by unanimous decision against former titleholder Hassan N'Dam, whom he knocked down four times.

"I have a lot of respect for Golovkin as a fighter," Lemieux said. "We prepared well for this fight, but I feel like I waited too long to take some shots tonight, and that really hurt me. I want another chance at Golovkin, and I will take advantage of it."

Golovkin wasted no time going on the attack in the opening round, nailing Lemieux with right hands as he drove him into the ropes. Golovkin rocked Lemieux again with a left hook early in the second round as Lemieux struggled to get anything meaningful off. A right hand hurt Lemieux later in the second round as he went into the ropes and looked very unsteady on his legs.

Golovkin used a versatile attack, landing right hands, left hooks and in combination. In the third round, he connected with a hard hook to the body followed by a hook to the head.

With such a deep amateur background and very good technical skills, Golovkin outclassed Lemieux, who tried to land big right hands but missed with most of them.

Golovkin, who earned a career-high $2 million plus a piece of the profits from the pay-per-view, got Lemieux in huge trouble in the fourth round when he rocked him with a left hook and punished him for much of the round as the crowd went wild in what was looking like a pure mismatch.

Late in the fifth round, Golovkin finally dropped Lemieux, nailing him with a left hand to the body. Golovkin then hit Lemieux with a right while Lemieux was down on a knee and was lucky he didn't lose a point for the foul. Golovkin bowed his head as if to say he was sorry and then continued to blister Lemieux with punches. He had Lemieux in big trouble again along the ropes as the round ended.

By the seventh round, referee Steve Willis was looking closely at Lemieux, who was bleeding from the nose and mouth. A minute into the round, Willis called timeout for the ringside doctor to examine Lemieux's nose. Later in the round, Lemieux landed a solid right hand to Golovkin's head, but he did not budge. Instead, Golovkin attacked and forced Lemieux into the ropes.

Golovkin continued to do as he pleased, hammering Lemieux, who made a career-best $1.5 million plus a percentage of the pay-per-view profits, in the eighth round. Willis was close to stopping the fight twice, and then, when Golovkin pinned Lemieux on the ropes and rocked him yet again, Willis intervened and waved off the fight at the 1:32 mark. Golovkin was winning by shutout on all three scorecards at the time of the stoppage.

"Now he has 21 knockouts in a row and an additional world title, and it goes back to what I have said about Gennady -- you have to believe what you are seeing with him," Loeffler said.

Lemieux, despite taking a shellacking, said he was upset by the stoppage.

"I feel like the referee called the fight too early. I am fine," Lemieux said. "When he stopped it, I wasn't even on the mat. I can keep going."

Willis said he had no choice but to stop the beating.

"I had to do something," Willis said. "David is a very competitive fighter, and as long as he was able to throw punches, he was going to keep on trying, but his chances of winning were decreasing as the fight went on. Against a guy like that, he was going to get really hurt, and I'm here to protect the fighters' health, and that's my top priority. I couldn't let him continue to receive punishment. I gave him every chance I could, and I still hesitated too much. It was over."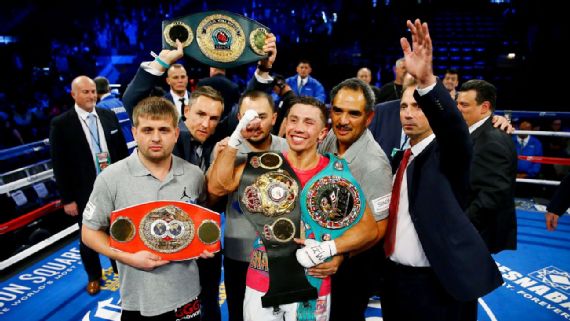 Gennady Golovkin's next bout could come against the winner of the Nov. 21 megafight between Miguel Cotto and Canelo Alvarez. Al Bello/Getty Images
Golovkin landed 280 of 549 punches (51 percent), and Lemieux landed 89 of 335 (27 percent), according to CompuBox punch statistics.

The addition of a second major title is only part of Golovkin's plan to acquire all four major belts. By virtue of Golovkin also holding an interim title, the winner of the Nov. 21 megafight between champion Miguel Cotto and Canelo Alvarez is mandated to fight him. Whether it happens remains to be seen, but Andy Lee also holds a belt and defends against Billy Joe Saunders on Dec. 19. Fortunately, all of those potential fights are politically makeable.

But the fight Golovkin wants next is the Cotto-Alvarez winner, which would be the biggest fight in boxing, barring a Mayweather-Manny Pacquiao rematch.

"We always thought Canelo would be the more likely one to fight Gennady, but you have to give Miguel respect," Loeffler said. "Gennady will be at their fight and looking to fight the winner.

"Canelo has proven that he is wiling to get in the ring with anyone, and Cotto has been very selective in his negotiations for being middleweight champion.

"Whoever wins that fight will clearly will be at the top of the sport, as Gennady is. Gennady has more belts than the winner of that fight, and it would be a huge unification fight for 2016. The plan is to see what happens Nov. 21."

The Cotto-Alvarez winner has 15 calendar days to decide whether he will fight Golovkin. Of course, GGG hopes the answer is yes.

"My goal is all the belts in the middleweight division," he said. "I'm a boxer, not a businessman. I want all the belts. I want to bring my fans big events. [Cotto and Canelo are] both great champions. I want who wins.

"I want all the belts; now I have two. The winner of Cotto-Canelo [next] for sure. I'm not sure who will win that fight, but I want to fight the winner next. I'm staying at 160 [pounds] until I have all the belts."

Source: espn.go.com/boxing/story/_/id/13913898/gennady-golovkin-stops-david-lemieux-tko-eighth-round
Gennady Golovkin Stops David Lemieux, Is Hell On Earth
Posted by Tim Starks - bloguin.com
Is Gennady Golovkin an android? A golem? Whatever he is, he seems almost perfectly designed to destroy flesh and bone, which is what he did Saturday on HBO Pay-Per-View against David Lemieux.
To say that Lemieux never had a chance, despite his own vaunted middleweight punching power, might ignore the most important point, which is why: Lemieux can punch, which is what gave him any chance he ever had, but Golovkin was both too good to allow himself to be hit much and had too good a chin for when he did. Lemieux landed his money punch at times, and flush. Golovkin ignored it like it didn't happen, then came back with even harder material.
And that doesn't capture the essence of the domination — that's just operating at the periphery of where Lemieux had a chance and Golovkin took it away. Golovkin was the better boxer, with the longer arms, and he took advantage of it from the opening bell. Golovkin would jab Lemieux and keep him from getting close, and Lemieux, with his stubby arms, had to bend down and lunge to even get within yards of Golovkin's chin.
Lemieux turned in the best performance he could, same as some of the undercard fighters, and admirably hung in there, which spoke probably to the dedication he showed in preparing for the biggest and hardest fight of his life. Yet in the 5th he suffered a body shot knockdown, then on top of it took a flush head shot after he was down — a punch that should've been ruled a foul, and Lemieux given a chance to recover. He also probably took punches after the bell to end the round.
Lemieux still did some of his best work thereafter, but Golovkin did. not. care. He busted up Lemieux's nose, making it a match for the aftereffects of a train wreck on Lemieux's hair, which flopped around gloriously with every act of violence by Golovkin. Finally in the 8th, the ref stepped in, and while Lemieux complained in the post-fight interview, he had kinda looked over at the ref in apparent hopes that he'd stop it.
The good news for Lemieux is that he still has a fan base in Canada and put up a capable enough showing not to ruin it, and he's got power and looks and youth and would beat a fair number of middleweights still. Plus he got the biggest paycheck of his life.
Golovkin, in his own post-fight interview, said he wanted the last of the middleweight alphabet belts, which belongs to Miguel Cotto, who has shown zero interest in facing Golovkin; Cotto is due to fight Canelo Alvarez next, who has shown more openness to the notion, and HBO would surely throw a ton of money at the idea. So maybe Golovkin will get his wish. But he'll have a tough time holding onto all the belts thanks to alphabet politics, and it's a misguided plan anyway. Did anyone watch this fight because of the number of belts on the line, or did they watch it because Lemieux can punch and Golovkin can punch and everyone was hopefully curious to see Golovkin challenged?
On Saturday, leading GOP presidential candidate Donald Trump visited Golovkin in his locker room, and we've seen some mainstream crossover from Golovkin in bunches. That kind of thing is foundational for the next big boxing star. Lemieux offered Golovkin a chance to burnish his PPV credentials and therefore lure less-willing opponents into the ring with richer purses. Lemieux also offered him the faintest possibility of a challenge, via a fellow big knockout artist. Until we get either A. Golovkin against a huge megastar (by today's standards) like Canelo or Cotto; or B. a sense that Golovkin might be actually challenged — not like Lemieux's outsider hope, but really challenged, i.e. someone on the level of super middleweight champ Andre Ward; or C. both… Golovkin's ceiling is not as high as it can be. But on the in-ring merits, and from the standpoint of making the most of the material he's been given so far, he's doing the best he can. Which happens to be pretty damn good.
Source: bloguin.com/queensberryrules/2015-articles/gennady-golovkin-stops-david-lemieux-is-hell-on-earth.html
Gennady Golovkin stops David Lemieux in 8th round to unify middleweight titles
By Bob Velin - boxingjunkie.com
NEW YORK — It was supposed to be Gennady Golovkin's toughest opponent to date, the experts said, a French-Canadian power puncher who had knocked out most of his opponents and insisted he was going to leave with Golovkin's title belts in tow.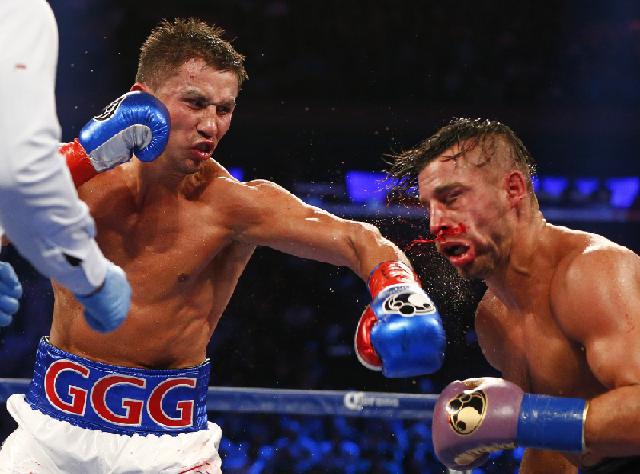 Gennady Golovkin, left, hits David Lemieux in the eighth round of a world middleweight title fight at Madison Square Garden. (AP Photo/Rich Schultz)
But with the sold-out Madison Square Garden crowd of 20,548, that included Republican presidential candidate Donald Trump, shouting "Tri-ple G! Tri-ple G!" to spur him on, Golovkin became the complete fighter, jabbing, boxing and punching his way to an easy victory in the HBO pay-per-view show, Golovkin's first PPV.

He took IBF middleweight champion David Lemieux apart patiently — though less so than usual — and methodically from the opening bell.

Golovkin, with Lemieux an unwilling dance partner early, brought him to his knees in the fifth round and continued his onslaught until referee Steve Willis finally and mercifully stopped at 1:32 of the 8th round. By then Lemieux was bloodied and beaten soundly.

The three ringside judges all had Golovkin sweeping every round, including the 10-8 fifth when Lemieux took a knee to stop the punishment, if only temporarily.

Golovkin connected on an amazing 58% of his power punches, 110 to Lemieux's 54.

With his victory, the baby-faced assassin from Kazakhstan with the killer smile and the vicious mean streak inside the ring had his 21st knockout in a row and an even brighter future ahead.

"I told you this was a very important fight," said Golovkin who was guaranteed $2 million for his night's work. "I give my fans and friends a big show. Thank you my fans. Thank you my people.

"Dave is a very good fighter. A strong fighter. I can box him, too. I'm a boxer, too."

He certainly proved that. The 26-year-old Lemieux had seven years on his opponent, but Golovkin was the aggressor from the start, throwing several hard rights to the body that connected time and time again. Golovkin's constant pressure would not allow Lemieux an opening, using his stiff left jab to set up his notoriously powerful right hand.

"I see his jab in sparring all the time," trainer Abel Sanchez said after the fight. "But this is the best I've seen it in a real fight."

Lemieux, unable to get through the jab, resorted to lunging at Golovkin and missing with wild rights and lefts, further proof of Golovkin's quicker feet and superior ring IQ, which Sanchez said this week would be the difference.

It was, and more. Lemieux, who came in with seven knockouts in his last nine fights, all victories, had no answer for Golovkin's power and boxing skills. By the seventh round, Lemieux was bleeding from the nose and mouth, and his handsome face showed the considerable punishment.

In the fourth round, Golovkin took it up a notch and unleashed his power. He staggered Lemieux several times with vicious left-right combinations. Lemieux appeared on the verge of going down but kept his feet. The Canadian smiled at his opponent as they went to their corners. It was not a smile that said, 'I got this now.'

From there it was all Golovkin as he found his target consistently and seemingly with ease. In the fifth round, Lemieux took a knee to stop Golovkin's explosive power. A few seconds after he got to his feet the bell rang. Otherwise it might have ended there.

Lemieux, who was guaranteed $1.5 million, by far his biggest payday, was not happy with the stoppage, saying, "I feel like the referee called the fight too early. I am fine. When he stopped it I wasn't even on the mat, I can keep going."

But referee Willis said, "David is a very competitive fighter and as long as he was able to throw punches he was going to keep on trying, but his chances of winning were decreasing as the fight went on.

"Against a guy like (Golovkin) he was going to get really hurt and I'm here to protect the fighters health and that's my top priority."

Lemieux felt he deserved a rematch. "I want another chance at Golovkin and I will take advantage of it," Lemieux (34-3, 31 KOs) said. "I'll keep my mouth shut tonight. He's a good fighter. Hopefully in the near future I'll get my chance again."

But Triple G was looking beyond Lemieux. He wants the winner of next month's big middleweight title fight between champion Miguel Cotto and Canelo Alvarez on Nov. 21 in Las Vegas.

"I want all the belts, now I have two," Golovkin said. "The winner of Cotto-Canelo for sure.

"I'm not sure who will win that fight, but I want to fight the winner next."
Source: boxingjunkie.com/2015/10/18/gennady-golovkin-stops-david-lemieux-in-9th-round-to-unify-middleweight-belts/
Gennady Golovkin puts on a show and a clinic with Lemieux stoppage
Doug Fischer - craveonline.com
NEW YORK CITY – The showdown between Gennady Golovkin and David Lemieux wasn't the Hagler-Hearnsesque shootout that fans and the bout's promoters hoped it would be.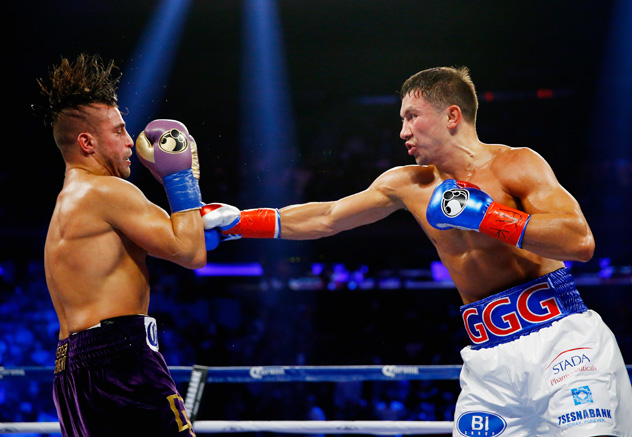 Photo by Al Bello/Getty Images
The anticipated middleweight title unification bout went the way odds makers that viewed Golovkin as a 5-to-1 favorite had envisioned: another dominating performance for "GGG," who systematically broke down his game but outclassed fellow power puncher to an eighth-round stoppage on Saturday.

However, the fight – which headlined an HBO Pay-Per-View telecast in the U.S. – delivered in another way: it was a true "event," one that packed Madison Square Garden to the proverbial rafters with hardcore fans and bona-fide celebrities.

The atmosphere was as electric and intense as it was for any show headlined by Puerto Rican boxing idols Felix Trinidad and Miguel Cotto.

In fact, the crowd of 20,548 gathered for Golovkin-Lemieux was the first time a boxing event has sold out the storied arena without Trinidad or Cotto – a span of at least 15 years, probably more.

The fact that Golovkin, a 33-year-old native of Kazakhstan who didn't make his U.S. debut until September 2012, was able to sellout the Garden against a Montreal native, who had previously only fought once in America (in Brooklyn last December), is a minor miracle.

RING pound-for-pound king Roman Gonzalez, who defended his RING/WBC flyweight title against Brian Viloria in the co-featured bout (and the fight of the night), sold his share of tickets to a surprisingly large contingent of Nicaraguan fans, but it was clear who "the man" of the evening was once Golovkin stepped into the squared circle for his main event against Lemieux (who also had a large and vocal group cheering for him).

Golovkin (34-0, 31 knockouts) had the biggest and the loudest fan base, many of whom were from Kazakhstan and proudly waved their nation's flag throughout the fight, but many of them were Americans and fans from other parts of the world who wore hats and T-shirts emblazoned with "GGG."

In just three years after his U.S. debut, Golovkin has become one of the biggest boxing attractions in the country. He's proven that he can bring in 10,000-plus fans in New York City and in the greater Los Angeles area. And despite limited English, he's become a darling of the American sports media.

The big question is whether he can become star, one that shines beyond hardcore followers of the sport.

The number of pay-per-view buys HBO does will help answer that question. If Golovkin, who (along with Lemieux) was in his first U.S. pay-per-view event, pulls in around 300,000 buys – a number similar to what Oscar De La Hoya, Floyd Mayweather Jr. and Manny Pacquiao garnered for their pay-per-view debuts – he may have a shot at crossing over.

"This is a big step for my career and my future," Golovkin said during the post-fight press conference. "This was my first pay-per-view fight. Next for me is to unify all of the middleweight belts and to do more pay per view shows."

Few doubt that he can become the undisputed 160-pound champ.

His dominance in the middleweight division, so far, cannot be questioned. Lemieux (34-3, 31 KOs) was Golovkin's 21st consecutive stoppage victory. He defended his WBA title for the 15th time and added Lemieux's IBF strap to his collection (which includes the WBC interim and IBO belts).

And he beat Lemieux with uncommon style and underrated skill.

Golovkin-Lemieux was billed as a showdown of the best punchers in the middleweight division – and it was. The middleweights have the highest KO percentages in their division (and most of the other weight classes).

However, Golovkin is more than an aggressive puncher. The world amateur champ and 2004 Olympic silver medalist reveals the fundamentals of boxing in his seek-and-destroy approach. He doesn't just punch hard. He knows how to punch (technique), when to punch (timing) and where to punch (accuracy).

Golovkin landed 58 percent of his power punches (110 of 190), according to CompuBox stats. He landed 51 percent of his total punches (280 of 549), including a whopping 47 percent of his jabs (170 or 359).

Golovkin averaged 21 jabs per round, four times the middleweight average, according to CompuBox. That jab, along with his footwork and ring generalship, allowed Golovkin to be in complete control of the first five rounds of the bout.

"I think people thought this fight would be a crazy style of fight, like street fight, but not this time," Golovkin said. "David is a big, strong middleweight, so I take my time and box.

"I respect David. He's champion, but it was a different class. Today was boxing school for David."

Golovkin's trainer Abel Sanchez wasn't surprised by his top fighter's skill and accuracy.

"People forget that he had 350 bouts as an amateur, and only lost five," Sanchez said. "He can box. Today he wanted to show that he's not just a banger."

Golovkin carefully kept Lemieux at bay with his very stiff jab and repeatedly walked his game foe into an assortment of clean power shots. It was as though Golovkin knew what Lemieux was going to do before the 27-year-old Canadian did.

In Round 5, Golovkin dropped Lemieux with a hook to the body (and landed a short right while the Montreal native was on one knee).

Golovkin tried to close the show in Round 6, but his increased aggression allowed Lemiuex to land his vaunted hook to the head and body of his tormentor. Lemieux stepped up his aggression in Round 7 and continued to land punches, despite getting the worst of nearly every exchange.

By Round 8, referee Steve Willis was clearly concerned as Golovkin violently snapped Lemieux's head back with jabs and crosses while he pressed the younger man to the ropes – where he landed a debilitating left to the body.

Lillis jumped in and stopped the fight at 1:32 of the round before Lemieux got seriously hurt.

"I'm a bit disappointed tonight," Lemieux said during the post-fight press conference. "(Golovkin is) a good champion.

"His jab was a very good punch. That was his best punch of the night. He got me good.

"I have a lot of respect for him. I'm sure I'll be seeing him in the future, somewhere down the line."

Maybe. But not before Golovkin goes after the winner of the Miguel Cotto-Canelo Alvarez RING/WBC title bout that takes place on Nov. 21.

Tom Loeffler, of K2 Promotions, which promotes Golovkin, said his team will be looking for the winners of other upcoming middleweight title bouts – Andy Lee-Billy Joe Saunders (WBO) and Daniel Jacobs-Peter Quillin (WBA "regular") – next year, but their primary target is the Cotto-Canelo winner.

The expectations for the Golovkin-Lemieux pay-per-view numbers were modest. That won't be the case for Golovkin vs. the Cotto-Canelo winner.

"That's the biggest fight that can be made in boxing for 2016," said Loeffler.

Source: ringtv.craveonline.com/news/402123-golovkin-puts-on-a-show-and-a-clinic-in-stopping-lemieux