News
MARSTON TO CHALLENGE TSHABALALA FOR HER WORLD CROWN
03/05/2016 - 18:25:07
On July 2nd, at the Arena UK in Grantham, Lincolnshire
GABISILE TSHABALALA Vs MARIANNE MARSTON
Unified WBFed, WBU, WIBA, UBO World Championship
2nd July 2016 at the Arena UK, Grantham, Lincs, UK
By Gianluca (Rio) Di Caro
London – Tuesday

3rd May 2016

– Over the past week or so the World's press have been focusing heavily on the recently announced 9th July Tyson Fury-Wladimir Klitschko WBO-WBA-IBO Unified Heavyweight Championships rematch. Quite rightly so, it's a huge fight, however just one week earlier, an equally World significant unification bout is also set to take place right here in the United Kingdom.
On July 2nd, at the Arena UK in Grantham, Lincolnshire, World #15 and British #1 ranked Marianne Marston will not only be challenging South Africa's World Boxing Federation (WBFed) Super Bantamweight World Champion Gabisile Tshabalala for her coveted crown, but will also be aiming to secure the World Boxing Union (WBU), Women's International Boxing Association (WIBA) and Universal Boxing Organization (UBO) World accolades.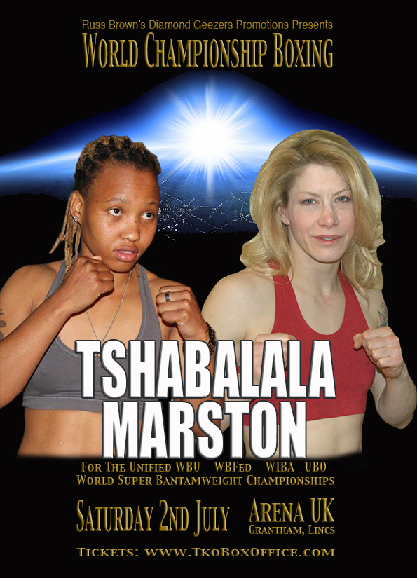 London based Marston, who was originally due to challenge Unathi Myekeni for the Bantamweight version of the WBFed strap back in December, that was until Myekeni was forced to withdraw following a hand injury, is cleary relishing the belated opportunity, as she made clear when she spoke earlier.
"I cannot thank WBFed President Howard Goldberg enough for making this happen, like me he was so dissapointed when Unathi (Myekeni) pulled out injured last year.
In addition to Howard, I would also lke to thank WIBA President Ryan Wissow, WBU President Don Lewis and Sebastien Pitois from the UBO, as they have been so supportive throughout my career, so to also challenge for their Championships really is so special for me.
I'm forty two now, so honestly thought after Unathi pulled out, that's it for me, I'll never get the chance to fight for a World title, OK that's not quite true, I could have fought for a vacant title, but to me that's just not good enough, I want to fight the best, I want to beat the World Champion.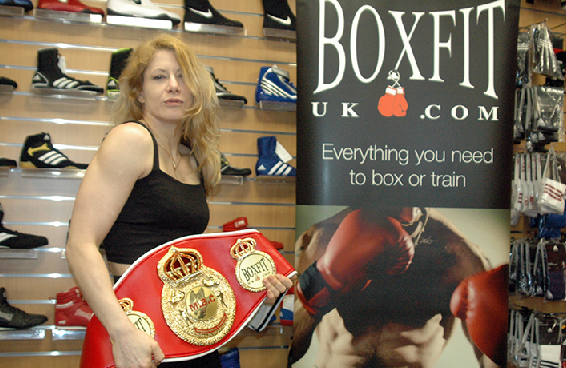 Marianne Marston proudly shows her MBC International Championship belt at sponsor's BoxFit UK Headquarters
/

Photo

:
Gianluca (Rio) Di Caro
I've seen video of Gabisile, when she fought Shannon (O'Connell) in 2013, but would very much like to find any video of her when she won the World title last year. I know how much I have changed, fight wise, since 2013 so really want to see if there are any changes to her style or tactics.
From what I have seen, she's a classy fighter, very quick hands. When she fought Shannon, she was mainly counter punching, which would suit me, but for some reason I have a feeling she will have a very different approach as a defending Champion.
Either way, this will be a great fight for the fans, there's such a contrast in our styles and in my view it's those differences in style and tactical approach that will make this such a great fight to watch.
British boxing is booming, we have so many World Champions at the moment, Tyson Fury, Anthony Joshua, Kell Brook, Carl Frampton, Lee Selby, Liam Smith, Jamie McDonnell, Lee Haskins, Tony Moran, Craig Docherty, Terry Flanagan, Anthony Crolla, James DeGale and of course my old gym mate at the TKO, Billy Joe Saunders.
Obviously they're all men, so I want to redress the deficit a little and join them, as well as be the first British Female boxer to be crowned World Champion since Jane Couch beat Jaime Clampitt for the IWBF title in 2004."
Gabisile Tshabalala Vs Marianne Marston for the WBFed, WBU, WIBA and UBO Super Bantamweight Unified World Championship headlines the Russ Brown promoted AS GOOD AS IT GETS event at the Arena UK in Grantham, Lincolnshire, UK on Saturday 2nd July.
This event is sanctioned by the British & Irish Boxing Authority (BIBA) www.boxbiba.com
EDITORS NOTES:
Marianne 'Golden Girl' Marston
Marianne had wanted to box from a young age, to appease the lively youngster her mother took her to the local boxing gym – Norwich Lads Club – however on making enquiries on joining she was told that it's called Lad's club for a reason!
So with boxing out of the question, Marianne turned to fencing (foil), rather successfully and by age fifteen was seeded sixth in England (Under 16's)
It would not be until many years later that Marianne eventually got to try some boxing, whilst recovering from an illness she went to her local LA Fitness to get fit again. She met personal trainer, Choleton Senior, who coincidently was a former boxer.
Choleton started teaching Marianne basic boxing and was impressed at her natural ability. He stepped the training up and Marianne stepped up accordingly, Choleton advised Marianne that she should find a boxing gym, as he believed she had what it takes to progress in the sport.
Following his advice Marianne joined Gleason's London gym. She was assigned a trainer, Joe Kenwright - one of the England Amateur Boxing Team coaches.
Joe was so pleased with the ability of his charge that after one of her sparring sessions, in which Marianne sent her professional opponent (a lightweight with a 13-0 record) to the canvas twice with her lightning fast combinations, he suggested to Marianne she should look towards boxing in America, as there were so few British female professional fighters in any class that she would not be guaranteed to get fights in the UK.
In 2007, Marianne who was regularly visiting New York, Boston, LA and Philadelphia on business, had already been training at Freddie Roach's gym in LA and Francisco Mendez's gym in New York when she was in those cities, decided to try and find a gym in Philadelphia as she spent more time there than any other city in America.
She had made an appointment to visit Joe Hand's gym when by complete accident she met legendary Heavyweight Champion of the World Smokin' Joe Frazier at a coffee shop opposite her hotel.
Joe and one of his boxers, Chandler 'Smoking Bull' Durham, had popped in to the crowded coffee shop, where the only vacant seats were at the table Marianne was seated at. Chandler asked Marianne if she minded if they sat at the table, she of course obliged.
Polite conversation followed, but a little later the conversation moved on to boxing, to which Marianne responded that she had just started boxing, Joe asked her to shadow box, which she did. Chandler then asked her did she realise who the older gentleman was, Marianne hadn't, even though she was a long time Smokin' Joe fan.
Joe laughed, when she profusely apologised for not recognising him, before inviting her to try out for him at his landmark North Philadelphia gym.
A few days later Marianne made the short trip to Frazier's gym from her Central Philly hotel. When she arrived Joe was nowhere to be seen, but his son Marvis said he was expecting her and said he'll be taking her for the trial.
Marianne hadn't noticed that Joe had arrived during the pad work session, that was until she heard him say from ringside 'great hook'.
After the session had finished Joe told Marianne he was impressed by what he had seen and then asked her to join Team Frazier, adding that he wanted to personally train her as often as he could.
In October Joe told Marianne that her only being able to train with his team for 4-6 weeks every couple of months was not helping her and suggested she committed herself to spending 6 months in Philadelphia, so he could get her ready to turn professional.
In February 2008 Marianne made the decision to spend six months in Philadelphia, split into two three month visits, and took a lease on an apartment. Just over one month after she had done this Smokin' Joe Frazier's Gym was forced to close.
Marianne's dreams were shattered as she now not only didn't have a gym but also no management or trainers.
About a month later Marianne relocated to the James Shuler Memorial Gym in West Philadelphia, within a few weeks or so Livvy Cunningham, the wife and manager of two time IBF Cruiserweight Champion Steve 'USS' Cunningham invited her to join their team.
Later that year, following a sparring session with Christina Leadbeater, promoter Ivan Cohen approached Livvy Cunningham with an offer to sign Marianne and debut her early in 2009.
Pennsylvania Boxing Commissioner Greg Sirb, who was also present, was equally impressed and agreed to license Marianne, subject to her obtaining a P1 Professional Athlete Visa.
In February 2009 Marianne returned to the UK, to obtain the visa that would enable her to fight, on the undercard of Brian Cohen's WBC Continental Americas title fight in South Philly on the 9th May that year.
Unfortunately the American Embassy in London refused her application, stating it was because she hadn't competed in an international competition in the UK.
What followed next was a full on media campaign, initiated by a Philadelphia journalist Kerry O'Connor and supported by some of the biggest names from the City of Brotherly Love.
Within days the campaign went global, almost instantly the American Immigration service was inundated with e.mails and phone calls from tens of thousands of boxing fans, calling for them to allow Marianne to return and fight.
Needless to say, bureaucrats being what they are by nature, they refused to change their decision.
However, that wasn't going to stop the aforementioned Ivan Cohen, who devised a plan, code named 'Team America', with the intention of bringing over a team of Philly based boxers, comprising of Hammerin' Hank Lundy, Daphir 'No Fear' Smith, Brian 'Bionic Bull' Cohen, Gerald 'The Jedi' Nobles, Eric 'The Outlaw' Hunter, Tim Witherspoon Jnr, Nathalie Brown and Christina Leadbeater, to take on a UK team that would include Marianne.
Supporting 'Team America' on this mission were some serious 'Big Guns' in the form of World Champions, Steve 'USS' Cunningham, 'Terrible' Tim Witherspoon, Buster Drayton, Robert 'Bam Bam' Hines and the man who 'discovered' and brought Marianne to America in the first place, Smokin' Joe Frazier.
However, the British Boxing Board of Control soon put an end to that plan, by refusing to license Marianne.
On enquiries as to why they would not license someone who has support from such boxing luminaries as Joe Frazier, Steve Cunningham, Tim Witherspoon, Ivan Cohen etc, plus a twelve fight contract already, BBBofC General Secretary Robert Smith stated that 'She just wants a license so she can go back to America, why should we license her, she'll have to get an American one.' Before voicing his personal beliefs - that women should remain in the "kitchen" as opposed to in the "boxing ring".
Shortly after being refused her license, Marianne signed management papers, with famed British manager and TKO Gym owner Johnny Eames.
Marianne moved her industry leading Women's Boxing Classes –
www.womensboxingclasses.com
- to the TKO Gym, where besides offering boxing and boxing fitness classes, Marianne has also developed an all female team, with most of her squad of twelve regularly competing in White Collar boxing events in London as well as one, Kimberley Leah, progressing to compete in the Amateur ranks.
Throughout a two year period Marianne appealed the BBBofC decision on numerous occasions, After the fourth appeal, Marianne decided to take an alternative route and successfully applied to another European sanctioning body in August 2011.
Finally overcoming the ridiculous levels of bureaucracy, from both the American Embassy and the British Boxing Board of Control, Marianne was finally able to fight, or was she.
Well yes and no, because the BBBofC still wouldn't allow her to fight in the UK on an overseas license, even though various promoters and boxing luminaries had lobbied on her behalf, but this all changed in 2013, following the German Boxing Association becoming the second European organization, after Luxembourg Boxing Federation, to take advantage of revised European legislation that allows other European boxing organisations to sanction events in the UK.
So finally, in April 2013 Marianne made her long awaited professional debut, against Hungarian #1 ranked Gabriella Roman.
The following is an extract from the fight report published on EastsideBoxing.Com
"Soaking up every moment of the occasion Marston finally entered the ring and once again acknowledged the highly vocal and appreciative crowd until the final chord of the emotive ring walk track.
Once referee Ken Curtis had completed his pre fight rule talk it was time for action.
Marston lithely prowled her way across the ring to meet her opponent head on with a massive right hand jab, closely followed with a big left, Roman was clearly stunned by the massive early assault, but still managed to cover up just as a second double handed barrage was thrown, closely followed up with a big left to the head sending the Hungarian girl to the canvas.
Roman recovered sufficiently to box defensively against the ever forward moving Marston, however after about twenty seconds or so Marston corralled the Hungarian in her own corner, with nowhere to go Roman covered up in preparation for yet another double handed assault.
As the seemingly never ending barrage rained down Roman succumbed to the inevitable and went down for a second time.
With barely enough time to catch her breath Roman once again was forced to cover up, as Marston continued to throw massive double-handed barrages.
The onslaught proved too much for Roman, who had let her hands drop enough for Marston to land a big right to the head, followed by an equally vicious left to send her reeling against the corner post.
Marston could smell blood and pounced in for the kill, first landing a massive overhand right closely followed by another wicked left hook, which shook Roman to the core.
Then, on the one minute forty seven second mark, just as Marston was about to throw yet another big left to the head of the clearly disoriented Hungarian, referee Ken Curtis jumped in to save the now virtually defenceless Roman from further punishment.
As soon as she realized it was over and she had won, an ecstatic Marston turned towards the legion of fans to her left and made an emotional statement, dedicating her victory to the memory of her mentor Smokin' Joe Frazier."
Within a day of the fight reports being published around the world, Howard Goldberg the South Africa based President of the World Boxing Federation, contacted Marianne's manager offering to fast track her for a shot at the WBF International title early in 2014.
It would not be until October before Marianne was to see action for a second time, due to the event she was due to fight on in July being cancelled.
On the 4th October 2013 Marianne faced late replacement Katalena Lazar, on the Dave Murphy Acourtier Events 'Night of Champions' event. The following is an extract from the fight report on BoxingNews24.com
"The first of the all female bouts featured local favourite, Marianne 'Golden Girl' Marston, against a very late replacement in Romania's Catalina Lazar.
It had been a stressful week in Marston's camp, following the announcement the previous Friday, that original opponent Masa Bacanov had broken her hand in sparring.
On Sunday Melinda Zsiga was announced as the replacement opponent, then on Monday Zsiga pulled out, various attempts were made to secure a new opponent and then on Wednesday Marina Kohlgruber's management were contacted but by Thursday morning terms still hadn't been agreed.
With time running out Marianne's management were left with a choice of a five time World Champion or the highly experienced Daniela David.
Naturally as it was only Marston's second pro fight it was decided to go with David, however by 6pm there was no sign of a signed contract, David's manager Christian Velea calling to say there was a problem and Daniela would not be able to make it after all, but then added he may have a replacement, the aforementioned Catalina Lazar, however it would be another six hours before terms were finalized and flights booked.
So back to fight night, Marston came out strong, as she did in her first fight, letting rip with solid right hand jabs, Lazar countering well initially, the pair kept up the exchanges for about twenty five seconds, when Marston dropped a peach of a hook to the body, which forced the Romanian to take to one knee.
Lazar bravely managed to make it to her feet before referee Ken Curtis finished the count.
Marston went straight back on the attack with good solid jabs, as Lazar covered up, then Marston shoots out a solid right jab followed by left cross to the stomach, which was enough to send Lazar to the deck once more, this time the gutsy Romanian couldn't beat the count.
The first round knockout was timed at just sixty seven seconds, Marston's record now stood at two fights, two wins, both by first round stoppage."
The spectacular nature of both her early wins, by first round knockouts, bought Marianne to the attention of various Championship organisations, besides the World Boxing Federation, both the World Boxing Union and the MBC International approached Marianne's management with offers of Championship bouts.
These Championship organisations' desire to have Marianne challenging for their titles would come as no surprise to many in the boxing world, as some of the sport's biggest names, both in the UK and America, have publicly declared what an exceptional and exciting talent she is, as well as a future World Champion.
Being privy to inside knowledge, that the World Boxing Union were about to announce the WBU Europe Championship, Marianne's management decided that her challenging for the inaugural WBU Europe female title held far more cache than her challenging for the WBF or IBO International versions, plus she could fight for the WBU Europe title in front of a home crowd at York Hall.
Terms were agreed for Marianne to face Bulgaria's #1, World #26 ranked, Galina Gumliiska, a highly experienced Championship boxer – having fought for the European title twice, International title five times and also challenged for a World title previously - for the vacant WBU Europe Super Bantamweight title at York Hall on Saturday 30th November.
However, the event was forced to be rescheduled just ten days prior, following a spate of injuries and illness decimating the impressive card.
A new date was set, Saturday 1st March 2014, however two major problems occurred, the first just ten days before the event Marianne sustained an injury to her piriformis muscle during sparring with former British and European Bantamweight Champion Ian 'Dappa' Napa. Marianne wound down the training sessions slightly in order to give the piriformis a chance to heal.
The second was far more serious, just one week before the fight Galina Gumliiska failed to get medical clearance to fight, leaving Marianne's team once more searching for a suitable opponent, unfortunately one couldn't be found at Super Bantamweight, so the decision was made to challenge Hana Horakova for the vacant WBU European Featherweight title.
Marianne got off to a good solid start, easily securing the first three rounds with quality jabs and stinging body shots, the fourth was a tad closer.
Late in the fourth Marianne bore a pained expression and her movement became increasingly erratic, noticing that her opponent had a problem Horakova shifted up a gear and started pressuring the Londoner for a couple of rounds.
Marianne put on a brave face and came right back, doing just enough quality work to secure the seventh round, even though the injury seemed to escalate Marianne more than held her own.
Going into the final round it was certainly close, Horakova shifted up another gear, throwing big rights at every opportunity, with just seconds to go the Czech girl landed a peach of a shot, rocking Marianne, Horakova then threw everything she had at the off balance Londoner, but somehow Marianne managed to stay on her feet until the final bell.
The fight was a cracker, a real close fought match, so no one was that surprised when it was announced that there was a split decision result, that came later as it was Horakova that had two judges score the bout in her favour and Marianne just the one.
In a post fight interview with Sky Sports, Marianne expressed her disappointment that the injury, which had first surfaced during the final sparring session with Ian Napa just ten days earlier, had re-emerged.
Marianne missed three proposed fights, 31st May, 5th July and 2nd August, due to the injury, then in mid-August it was announced that Marianne was to challenge for the MBC International Super Bantamweight title.
On Saturday 25th October 2014, the journey to being crowned WORLD CHAMPION continues, as Marianne beat Hungarian #1, European #3 and World #31 ranked Marianna Gulyas for the MBC International Super Bantamweight Title, one that has put her in prime position to challenge for the World title in 2015.
Here's an excerpt from one of two features published on The Fight Network about this magnificent victory:
"Woolwich, London's Marianne 'Golden Girl' Marston utterly dominated proceedings, when she fought Hungarian #1, European #3 and World #31 ranked Marianna Gulyas to secure the vacant MBC International Super Bantamweight title, at York in London, England on Saturday night.
From start to finish it was the slick British southpaw that took the fight to her much more experienced opponent, aggressively going forward, utilizing her sharp jabs and stinging lefts to great effect, Marston appeared to be able to pick off her opponent at will, leaving Gulyas to defend on the retreat.
Gulyas visited the canvas seven times throughout the fight, however only twice did referee, Germany's Alf Sprung, deem the visits to be knock downs, the others he waved off as slips or pushes.
There was a rather scary incident in the eighth. Marston was throwing big lefts as she backed Gulyas onto the ropes, one of these sent the Hungarian of balance, forcing her to grab the forward marching Marston, in doing so Gulyas went backwards through the ropes as well as pulling the Londoner face down, out of the ring and onto the officials table.
Luckily neither protagonist received any injuries from the incident and both were able to continue to see the fight out to the end. After ten rounds of excellent boxing from Marston the highly vociferous crowd at the famous home of boxing in the Capital city were clearly overjoyed when the judges scorecards were read out, as was Marston and her team.
Judges Ben Doughty (UK) and Matt Hamilton (South Africa) scored the bout 100-89 and judge Lee Murtagh (UK) scorecard read 99-88 all in favour of Marianne Marston."
In the build up to this most important of fights Marianne was the subject of a documentary by Manray Media, which will be broadcast after her World title challenge in 2016
It wouldn't be until August 2015 before Marianne was back in action once more, due to the injury raising it's ugly head again.
Simon Brown wrote the following for Eastside Boxing:
"The final female bout followed shortly after, a Bantamweight contest between London's Marianne Marston and Riga, Latvia's Jekaterina Lecko.
As with the previous bout I had heard that there had also been problem with matching this fight, nine different opponents, due to major interference.
Lecko sashayed down the catwalk first, looking very much like a catwalk model than a boxer, oh forgot to say the catwalk was another innovative addition on this show, have to say I liked it and it seems most of the boxers did too.
Marston on the other hand looked every inch a pro boxer, no posing for her she was focused and ready to fight.
Right from the off the two girls battled for centre ground, but it didn't take long for Marston to not just take centre ground but used her command position to dominate the round, easily picking off the highly mobile Latvian.
In the final minute or so of the first Marston stepped up the pressure and backed Lecko onto the ropes where she then proceeded to pummel the Latvian with ferocious double handed volleys, until with just seconds left of the round the inevitable happened and the Latvian went down.
Lecko just about beat the count and after the minute break the bout resumed in very much the same style, with Marston dominating.
Lecko began to throw massive right hands, but Marston wasn't fazed by these, she just dipped down and as Lecko's glove flew by let rip with big lefts to the body.
As before Marston cut off any escape route and backed the Latvian on to the ropes and began another double handed assault, until Referee Ken Curtis had no option but to step in and save Lecko from serious damage.
Marston is without doubt a talented boxer, her movement and ability to cut off the ring is first class, however again, as with Smith, the level of opponent didn't give the Londoner a chance to show the fans what she is really capable of.
After the fight MC Steve Holdsworth announced that Marston will be challenging for a World title in November, I hope it's in the UK as I for one will definitely want to be there to watch that."
Marianne was lined up to face South African former World Champion Unathi Myakeni for the vacant World Boxing Federation Bantamweight Championship on December 6th, however the bout failed to go ahead after Myakeni injured her hand.
The bout was rescheduled to March 2016, but unfortunately Myakeni was still not able to fight due to the injury. Unsuccessful attempts were made to source an alternative Championship opponent and the bout once again didn't go ahead.
Early in April World Boxing Federation President Howard Goldberg contacted Marianne's management offering the opportunity for Marianne to challenge their Super Bantamweight World Champion Gabisile Tshabalala.
After weeks of negotiations a deal was reached that sees Tshabalala traveling to the United Kingdom to defend her World crown against Marianne at the Arena UK in Grantham.
Immediately the announcement was made various World Championship organisations, who had been in negotiations for Marianne to challenge for their Championships, came forward and requested that the bout also be for their Championships and within a few days the bout became a Quadruple Championship Unification Battle for the World Boxing Union, World Boxing Federation, Women's International Boxing Association and Universal Boxing Organization Crowns.
On the 12th April Marianne began her training camp at a secret location, under the watchful eyes of one of the most famous and successful Championship coaches – for obvious reasons we are unable to disclose who this is to prevent any further interference from the BBBofC.
FURTHER INFORMATION/INTERVIEW REQUESTS
For further information or interviews please contact
:
Gianluca (Rio) Di Caro
JustListen2This Publicity & Promotion
Tel: (UK) +44 (0)7960 850645
Skype: GianlucaDiCaro