News
CANELO ALVAREZ STOPS AMIR KHAN IN SIX
08/05/2016 - 12:44:01
Canelo Alvarez puts Amir Khan to sleep with a booming right
Michael Rosenthal - ringtv.craveonline.com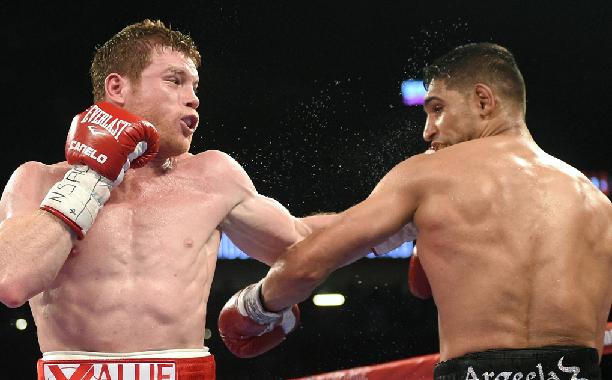 Photo by Naoki Fukuda
LAS VEGAS – When the punch landed, you could almost hear a sigh of relief from everyone connected to Canelo Alvarez.

For five-plus rounds on Saturday night at the new T-Mobile Arena, Amir Khan's quick hands and slick movement gave Canelo fits and raised the strange specter of a tremendous upset. Then, in a flash, that changed as dramatically as is possible in boxing.

The fighters were in the center of the ring when Canelo feinted slightly with his left and landed a right-hand bomb on Khan's chin that rendered the Briton unconscious before he fell flat and motionless on his back.

There was no reason to count. The fight ended with 23 seconds remaining in Round 6.
Canelo Alvarez stops Amir Khan, calls out Gennady Golovkin
Dan Rafael ESPN Senior Writer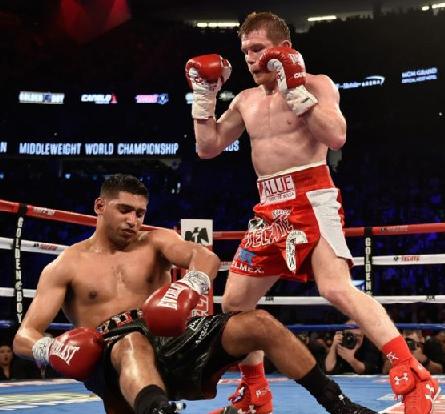 LAS VEGAS -- Middleweight champion Canelo Alvarez had a lot of problems with the speed and movement of Amir Khan, just the way Khan and his team planned. Then Alvarez connected.

Alvarez, the heavy favorite, landed a monster right hand to Khan's chin in the sixth round, and that was it, as he brutally knocked Khan out before a crowd of 16,540 on Saturday in the main event of the first boxing card at the new T-Mobile Arena.

The largely Mexican crowd cheering Alvarez on during Cinco de Mayo weekend erupted as Alvarez retained the middleweight title in his first defense, six months after taking it from Miguel Cotto by unanimous decision. Alvarez and Khan fought at a catchweight of 155 pounds.