News
PERSSON'S EURO RESULTS
21/12/2017 - 12:53:59
EURO RESULTS
By Per-Ake Persson
Dec 17, Milano, ITA:
Matteo Modugno, 121,0, Ita, TKO 3 Jakov Gospic, 130,0, Cro
Antonio Moscatiello, 67.5, Ukr/Ita, KO 6 Nerdin Fejzovic, 66.2, BH
Michele Esposito, 67.5, Ita W 6 Marco Di Giambernardino, 67,0, Ita
Edoardo Del Vecchio, 65.6, Ita W 6 Davide Calì, 65.8, Ita
Andrea Sito, 60.3, Ita KO 2 Budimir Jevtic, 60.3, Ser

Dec 17, Madrid, SPA, Gimnasio Metropolitano
w: John Dickson, Spa W6-M Mamadou Goita, Spa
59-56, 58-56 and 57-57.

Dec 16, Porto Torres, ITA:
c: Salvatore Erittu, Ita, W 6 Dusan Krstin, Ser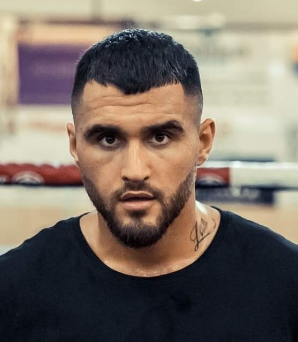 Robin Safar
Dec 16, Stockholm, SWE, EnArena, Fernstrom Pro Boxing,
6x3: Robin Safar, 83,5, Swe W6-U Levan Luktashvili, 82,8, Geo
60-53, 59-54 and 60-53. Luktashvili was down in the last of a good, hardfought, fastpaced fight. Luktashvili was dangerous with a wild right but was overall outboxed and outpunched by the taller, bigger Swede, who entered the ring with a blue and yellow t-shirt with ERIK SKOGLUND FIGHT ON BROTHER printed. He dedicated the win to Skoglund as well.
Simon Engström, 79,5, Swe W4-U Piotr Brzoska, 78,5, Pol
Engström dominated the fight but appeared to be pacing himself too much. In the last Brzoska tired and a spent force went all out and hurt the Swede with a bodyshot. It was too little too late. 39-37 twice and 40-36.
Redouane Kaya, 61,4, Swe W4-U Giorgi Abuladze, 59,9, Geo
40-35 on all cards. Abuladze had a point deducted in the final round for holding. Messy fight. Kaya dominated.
Micha Tabagoua, 81,7, Swe W4-U Stanislav Sergeev, 80,7, Est
Prodebut for Tabagoua at the age of 35. 40-35 on all cards. Sergeev was down after a bodypunch in the second.
Laziz Sharifov, 65,8, Swe W4-U Samuel Hadzima, 65,3, Slo
40-36 on all cards. Good boxing from Sharifov against a solid opponent.
4x3: Zaza Amiradze, 67,7, Geo KO 2 (1.30) Yaffet Amaniel, 69,2, Swe
Amiradze fought from a southapw stance the entire fight and knew too much for Amaniel, who was floored in the second and got a loooong count but was still out of it once the fight resumed and was floored again - and it was stopped a bit late and ruled a KO.
Marcus Alberts, 88,2, Swe W4-U Kamil Kulczyk, 85,7, Pol
40-36 on all cards. Alberts is all about hard work - but is seldom effective. Kulczyk, a southpaw, was much shorter and threw wild swings from both hands but got under pressure in the second.

Dec 16, Charleroi, BEL:
12x3: Ryad Merhy, 89,3, Bel KO 4 Nick Kisner, 90,6, US
Merhy retained the WBA I/C title.
8x3: Timour Nikarkhoev, 79,3, Bel TKO 7 Michal Ludwiczak, 83,0, Pol
6x3: Antoine Vanackere, 63,3, Bel TKO 2 Petar Peric, 63,8, Ser
Hervé Hubeaux, 104,3, Bel W 6 Srdan Govedarica, 115,0, Ser
Kamel Kouaouch, 90,7, Bel W 6 Mateusz Rybarski, 90,3, Pol
4x3: Miko Khatchatryan, 61,2, Bel KO 1 Pavlio Maistrenko, 59,2, Ukr
6x3: Abraham Nova, 59,9, US TKO 2 Milan Savic, 61,0, Ser
Gaetano Toma, 79,4, Bel W 4 Mislav Milardovic, 82,2, Cro
Pierino Paglierini, 67,7, Bel W 4 Predrag Cvetkovic, 68,0, Ser
4x3: Junior Wabaga Minisiensi, 71,0, Bel KO 1 Aleksandrs Sergjogins, 72,2, Lat

Dec 16, Boulogne-Billancourt, FRA:
8x3, h: Tony Yoka, Fra TKO 2 Ali Baghouz, Bel
b: Ali Oubaali, Fra KO 7 Mark Anthony Geraldo, Mex
WBC Int'l Silver title.
sw: Souleyman Cissokho, Fra TKO 7 Jose Manuel Lopez Clavero, Spa
b: Elie Konke, Fra KO 1 Mishiko Shubitidze, Geo
m: Kevin Bertogal, Fra W 6 Dominique Soloy, Fra
lh: Willy Hutchinson, Ang TKO 2 Cyril Joly, Fra
m: Johanny Bola, Fra D 4 Farrad Saad, Fra

Dec 16, Toulon, FRA:
sw: Jose Gomez, Fra KO 8 Steve Martin, Mal/mba
vacant WBC Med 154 lb title.
sw: Matthias Noto, Fra W 4 Hakim Abdessalam, Fra

Dec 16, Fourmies, FRA:
m: Giorgi Kerdikoshvili, Geo W 6 Francois Bastient, Fra
Bastient injured his left and fell behind from the start - and announced his retirement afterwards.
l: Dylan Carlier, Fra W 4 Andrei Nurchynski, Blr
6x3, sw: Gael Rigobert, Fra TKO 5 Raphael Boquet, Fra

Dec 16, Montargis, FRA:
fly: Anthony Chapat, Fra W10-U Zakaria Elaissaoui, Fra
6x2, f: Cindy Novelli, Fra W 6 Wendy Vincent, Fra

Dec 16, Leganes, SPA, La Cubierta, Fight Club Slam
sm: Abner Lloveras, Spa W8-U Jose Nunez, Ven
80-74, 79-73 and 78-74.
Jerobe Santana, Spa TKO 6 Franklin Varela, Spa
Israel Real, Spa W8-U Ambrosi, Sutidze, Geo
80-71 twice, 79-72.
sl: Sandor Martin, Spa TKO 1 Adam Mate, Hun
Jonathan Alonso, Spa TKO 1 Elvin Perez, Nic

Dec 16, Lendersdorf / Düren, GER: gba
mixed boxing pro/am, martial arts event
sw: Baktash Saidi, TKO 3 (1.57) Suleyman Dag,
sm: Timo Rost, W 6 (57-56) Mohamed Boulahya,
sm: Alpay Yaman, W 4 (40-37) Mesud Guenay,

Dec 16, Straubing, GER: Messehalle, Petko's Box Promotion
8x3, sm: Avni Yildrim, Tur KO 1 Attila Korda, Ger
sf: Edgar Walth. Ger TKO 5 Adnan Zilic, Bos
All in all four knockdowns.
h: Petar "Anton" Milas, Ger KO 1 Andras Csomor, Hun
lh: Ivan Stupalo, Cro KO 1 Nick Morsink, Ger
Stupalo knocks out one PBP:s prospects.
c: Andrej Pesic, W 4 Toni Visic,
h: Edi Delibaltaoglu, KO 1 (0.27) Emil Handanagic,
m: Karwan Al Bewani, Ger TKO 1 Marko Miljatovic,
sm: Tahir Kahrovic, KO 3 Michael Klempert, Ger

Dec 16, Brovari, UKR:
l: Denys Berinchuk, Ukr TKO 6 (1.53) Allan Vallespin, Phi
WBO Oriental title.
f: Oleg Malinovski, Ukr KO 1 (2.25) David Berna, Hun
w: Karem Chukadzhyan, Ukr W8-U Ali Funeka, RSA
80-73, 79-73 twice.
c: Isa Akberbayev, Kaz TKO 4 (not out) Mirnes Denadic, Bos
sl: Mishiko Beselia, Geo/Ukr TKO 3 Denis Checheta, Ukr
sm: Max Bursak, Geo W8-U Soso Abuladze, Geo
sw: Stanislav Skorokhod, Ukr TKO 3 Nodar Robakidze, Geo
sl: Aram Faniyan, Ukr W6-U Giuseppe Carafa, Ita
6x3, m: Nikolay Veselov, Ukr TKO 5 Zoltan Sera, Hun
c: Stanislav Kutin, Ukr W4-U Ramaz Gogichaishvili, Geo

Dec 16, Plzen, CZE: Atom Gym
h: Pavel Sour, W8-U Vaclav Pejsar,
vacant Czech title, 80-73 twice and 80-72.
c: Vladimir Reznicek, Cze W 6 Drazan Janjanin, Bos

Dec 15, Avezzano, Italy
m: Stefano Castellucci, Ita W 6 Alexandru Petrica, Rom
h: Ivan D'Adamo, Ita, cTKO 4 Elidon Gaba, Alb/Ita

Dec 15, Livorno, ITA:
sl: Vairo Lwnti, Ita, W 6 Lorenbzo Calì, Ita

Dec 15, Ekaterinburg, RUS: RCC Promotions
Alexander Povetkin, 101,25, Rus W12-U Christian Hammer, 116,3, Ger
120-107, 120-108 and 119-109. WBO and WBA I/C titles. Hammer had a point deducted for holding.
Magomed Kurbanov, 69,4, Rus TKO 8 (1.17) Akinore Watanabe, 69,35, Jap
WBO Int´l title. Watanabe fought well but was trailing on points and was finally stopped due to a swollen shut eye.
Evgeny Chuprakov, 58,68, Rus W10-U Pablo Manuel Ojeda, 58,78, Arg
96-95, 97-93 twice. WBO I/C title.
Yuri Kashinskiy, 90,1, Rus KO 2 (1.17) Al Sands, 90,75, Hai
WBO Oriental title.
8x3: Zaur Abdullaev, 62,45, Rus TKO 7 Robert Gonzales, 60,1, Phi
Mukhammadkhuja Yakubov, 58,54, Rus KO 1 (1.13) Jaime Barcelona, 58,74, Phi
bodyshot.
Pavel Malikov, 61,1, Rus W10-S Deiner Berrio, 60,9, Col
WBO Interim I/C title. 96-93 and 95-94 Malikov and 96-93 Berrio.
Yuri Bykhovtsev, 93,3, Blr W6-S Gasan Gimbatov, 103,4, Rus
58-56 twice for Bykhovtsev and 58-56 for the touted Gimbatov.
Evgueny Romanov, 98,8, Rus W6-U Tornike Puritchamiashvili, 142,25, Geo.
60-54 on all cards.
h: Zamig Atakishiyev, 102,55, Aze/Tur D6-S German Skobenko, 122,0, Ukr
58-56 Atakishev, 59-55 Skobenko and 57-57.

Dec 15, Bilbao, SPA, Fronton Bizkala, MgZ
f: Andoni Gago, Spa TD 4 Viktor Terrazas, Mex
Terrazas was accidentally cut and it was declared a technical draw.
sb: Aritz Pardal, Spa TKO 2 Ibon Larrinaga, Spa
WBC Med 122 lb title.
6x2, b: Violeta Gonzales, Spa TKO 5 Paloma Ramos, Spa
sl: Dani Gomez, Spa TKO 3 Haritz Lopez de Lacalle, Spa
w: Jon Miguez, Spa KO 4 Fernando Gandarias, Spa
sf: Brian Pelaez, Spa D 4 Saul Luna, Spa
sf: Adrian Rodriguez, Spa W4-S Diego Valtierra, Spa

Dec 15, Szekesfehervar, HUN, Lake Side Hotel, Felix-Promotion
m: Balazs Bacskai, Hun W8-U Alex Marongiu, Ita
80-72 on all cards.
sl: Zoltan Szabo, Hun W10-M Balasz Torteli, Hun
Hungarian title, 99-91, 96-94 and 95-95.
sw: Ferenc Berki, Hun W8-U Jemal Shalambaridze, Geo
78-73, 79-72 twice.
c: Jozsef Darmos, Hun D 6 Yassine Habachi, Ita
lh: James Kraft, Ger TKO 2 Georg Aduashvili, Geo
lH: Toni Kraft, Ger TKO 2 Mindia Nozadze, Geo
sm: Shefat Isufi, Ger TKO 1 Badri Kereselidze, Geo
sl: Balazs Morton, Hun TKO 3 Nicolae Dragos, Hun
sw: Zoltan Kispai, Hun TKO 3 Krizstian Duka, Hun
br selected results
sl: Guyla Rozsas, W 4 Zoltan Surman Jr,

Dec 15, Fürth im Wald, GER: Kobra Box Promotion (Dalibor Dan) bdb
c: Edin Puhalo, Bos TKO 5 (not out) Oczan Cetingkaya, Ger
vacant WBC Med title. 1/ how did Cetinkaya qualify for this title? 2/ since when does Bosnia and Germany border to the Medittereanean?
lh: Haris Dzindo, Den/gba W 4 Ibrahim Odabasic,
Mirkov Jovic, W 4 Puriya Haidari, Den
w: Haidari claims he was robbed - and was down late in the fourth and had a point deducted in the third.

Dec 14, Levallois Perret, FRA; Palais des Sports Marcel Cerdan, Asloum Promotions
l: Yvan Mendy, Fra KO 8 (2.10) Jesus Arevalo, Mex
h: Johann Duhaupas, Fra TKO 8 Newfel Outah, Fra
Outah accepted the fight on short notice.
h: Oscar Rivas, Can W10-U Gabriel Enguema, Spa
m: Christian Mbilli, Fra KO 5 Robert Swierzbinski, Pol

Dec 14, Kladno, CZE:
lh: Karel Horejsek, Cze W 10 Ondreu Budera, Cze
vacant Czech 175 lb title. Budera was close to being stopped but lasted the distance. Sole profight on the bill.

Dec 12, Ekaterinburg, RUS, RMK Boxing Promotions
6x3: Ravshanbek Umurzakov, 61,5, Rus KO 1 (2.06) Evgeny Smelov, 61,5, Rus
10x3: Edward Scavinsky, 67,65, Rus TKO 7, inj Vaginak Tamrazyan, 67,65, Rus
Tamrazyan was down in round 1, Scavinsky down in round six.
6x3: Stanislav Kalitsky, 61,1, Rus TKO 3,ret Revzoni Safrzoda, 61,1
Vladislav Krasnoshein, 60,7, Rus D6-M Sharofiddin Zhurakhonov, 60,7,
58-56 Krasnoshein, 57-57 twice.
4x3: Ilya Balandin, 75,5, Rus TKO 1 (1.46) Alexey Gobris, 75,5, Rus
Sergey Kozhuhar, 80,4, Rus D4-M Timur Pashaliev, 80,4, Rus
40-36 Kozhuhar, 38-38 twice.
4x3: Ravshan Ergashev, 72,45, Rus TKO 4 (0.38) Rustam Svaev, 72,45, Rus
Svaev down early in the fourth.
Eugene Nikitin, 67,55, Rus W6-U Soh Fonkou Guerin, 67,55, Rus
58-55 twice and 57-56.
6x3: Ashot Papayan, 72,45, Rus TKO 1 (1.55-1kd) Maxim Potapov, 72,45, Rus
Samvel Gandilyan, 55,7, Rus W4-U Azar Huseynov, 55,7, Rus
40-36 twice and 39-37.
Akjol Uulu Sulaimanbek, 58,8, Rus W8-U Andrey Isaev, 58,8, Rus
80-72 twice and 79-73.
Alexander Ivanov, 68,85, Rus W8-U Alexander Sharonov, 68,85, Rus
80-72 twice and 79-73.
Mirzohidjon Abdullaev, 92,7, Rus W4-U Eduard Zarinov, 92,7, Rus
40-36 on all cards.
Denis Lashin, 58,8, Rus W6-M Murad Arslanov, 58,8, Rus
59-55, 58-56 and 57-57.
Kobiljon Hosilov, 63,45, Rus W4-U Karen Margaryan, 63,45, Rus
38-38 twice and 39-37 Margaryan.
Per-Åke Persson