News
PERSSON'S EURO RESULTS
01/12/2018 - 15:32:24
EURO RESULTS
By Per-Ake Persson

Nov 24, Copenhagen, DEN, Frederiksberghallerne, Mogens Palle & Brian Nielsen Promotion
10x3: Ditlev Rossing, 89,4, Den TKO 3 (2.10) Miguel Angel Peralta, 89,4, Arg
"El Verdugo" Peralta was nothing much and Rossing knew it and that prolonged the fight as Rossing kept looking for that knockout punch. Peralta was floored late in the second and the writing was on the wall but it wasn´t until 2.18 of the third before it was stopped with Peralta again on the floor. Rossing retained the WBC Youth title.
8x3: Oliver Meng, 69,0, Swe TKO 2 (0.45) Anzor Gamgebeli, 66,0, Geo
Gamgebeli looked as if it was a day in the office, was much smaller than Meng, and went over twice in the first and again in the second before it was stopped and showed no punch resistance.
8x2: Sarah Mahfoud, 57,4, Den W8-U Stephanie Ducastel, 59,0, Fra
80-72 on all cards and a career best performance by Mahfoud, who kept the distance and boxed well. Ducastel was agressive but wasn´t able to do much.
8x3: Enock M, Poulsen, 63,8, Den TKO 5 (2.35) Kevin Dotel, 64,2, Spa
Poulsen had the quicker hands and was just a little too slick for the agressive Dotel. Dotel was floored at the bell (or after??) by a left hook during a heated exchange and was counted over. After four he was behind 40-35 on all cards but kept coming and looked good - but Poulsen looked even better. Dotel went all out in the fifth and was caught by a right upercut-left hook and was on his back, got up but it was stopped - which looked premature even if the fight was lost.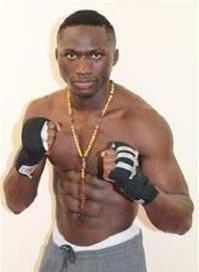 Patrick Mendy
8x3: Patrick Mendy, 78,5, UK/Cze? W8-U Dmitri Chudinov, 79,0, Rus
Mendy leading with his dangerous jab/hook/upercut left had too much of everything for the faded Chudinov and was a clear winner. The former world champ fought with a badly swollen left eye and looked slow but kept trying. Mendy, a sub for Jepper Morell, won on scores of 79-73 twice and 80-72.
4x3: Allan Mahfoud, 69,5, Den W4-U Guram Kurtanidze, 67,8, Geo
40-36 on all cards. Mahfoud dominated the action but was too eager and was looking too much for that knockout punch.
6x3: Lado Gabisonia, 77,3, Geo W6-U Andreas Lynggaard, 77,8, Den
59-55 twice and 60-54. Lynggaard looked rusty and taken by surprise by the agression of Gabisonia, who went all out right from the start. Lynggaard was hurt by a right and was almost on one knee but somehowe avoided a knockdown late in the first. He did better late in the fight with Gabisonia bleeding from the nose and cut by the left eye but was a clear loser.

Nov 24, Monte Carlo, MON, Casino de Monte Carlo, Salle Medicin, Matchroom
c: Denis Lebedev, Rus W12-U Mike Wilson, US
WBA "in recess" champ Lebedev won on scores of 117-111 and 119-109 twice.
h: Michael Hunter, US TKO 9 Alexander Ustinov, Blr
Ustinov was down in the 8th and again in the 9th and the towel came in.
s-fly: Kal Yafai, Uk W12-U Israel Gonzales,
Yafai won on scores of 117-111 and 116-112 to retain the WBA superflyweight title.
lh: Fanlong Meng, Chi TKO 5 Frank Buglioni, Uk
Buglioni picked up a bad cut in the fifth and it had to be stopped.
8x3, w: Daniyar Yeleussinov, Kaz TKO 3 Marcos Mojica, Nic
6x3, l: Khalil El Hadri, Fra TKO 4 Andrei Nurchynski, Blr
sw: Ruslan Kupchik, Fra W 4 Mifodzi Pilipenak, Blr
4x3, sf: Sultan Zaurbek, Kaz TKO 3 Edwin Tellez, Nic

Nov 24, Velbert, GER, EMK Sportzentrum, Werner Kreiskott, gba
w: Sherif Morina, W10-U Benson Nyilawila,
UBO Int´l 147 lb title scored 97-93 twice and 96-94.
h: Patrick Korte, Ger TKO 3 (1.33) Ramazi Gogichashvili, Geo
Korte won the vacant WBFed EurAsia title. Gogichashvili was down twice in the third from bodyshots.
sw: Antonio Hoffmann, Ger TKO 2 (2.51) Orlen Padilla,
6x3, sm: Emin Atra, Ger TKO 2 (1.36) Yesilat Berkta, Ger
m: Adnan Ukella, W 4 Rene Molik,
lh: Shokran Parwani, W 6 Zura Mekerishvili, Geo
8x3, sm: Sahan Aybay, KO 2 (1.41) Gutram Ngoya,
4x3, sm: Jalal El Zein, TKO 2 (2.28) Cankan Guenyuezlue,

Nov 24, Opole, POL:
4x3, sw: Radoslaw Chojnowski, Pol KO 4 Grzegorz Sikorski, Pol

Nov 24, Barcelona, SPA:
sl: Sandor Martin, Spa W10-U Mauro Maximiliano Godoy, Arg
Clear win for Martin but no scores given.
l: Ivan Thomas, Spa W 8 Alin Florin, Rom/Spa
c: Diego Torrente, Spa W 4 Jose Nunez, Spa

Nov 24, Los Cristianos, Islas Canarias, SPA, Jesus Dominguez Grillo
sm: Adasat Rodriguez, Spa TKO 3 Julio Acosta, Spa

Nov 24, Palma de Mallorca, SPA:
Maxi Macchion, Spa W 4 Pako Amado,
Sean Pendry, Spa W 4 Sergio Torres,

Nov 24, Madrid; SPA, Gimnasio Rayo Vallecano, Rimer Boxe
4x3, f: Ivan Ruiz Morote, Spa W 4 Reynaldo Mora, Nic

Nov 24, Turnhout, BEL:
Jimmy Winkel, 70,2, Bel D 6 Jamal Eddine Mahouti, 71,5, Bel

Nov 24, Ergue-Gaberic, FRA:
10x3, 1/1 CLL, sw: Romain Peron, Fra W10-U Nicolas Ladies, Fra
Peron won the Coupe de la Ligue on scores of 97-93 twice and 96-93.

Nov 24, Serifontaine, FRA, Gymnase Bernard Leduc
sb: Hugo Legros, Fra W10-U Adel Hadjouis, Fra
Legros won the French title on scores of 98-92 and 96-94 twice.

Nov 24, Royat, FRA:
sl: Morgan Ndong Zue, Fra W 10 Houchang Habib, Fra

Nov 24, Grenoble, FRA:
m: Marsel Sermi, Fra W 6 Mike Diemunsch, Fra
4x2, fly: Sabah Ghades, Fra W 4 Ivanka Ivanova,

Nov 24, Loir-et-Cher, FRA:
m: Michel Mothmora, Fra W 6 Levan Ulikhaniani, Geo

Nov 24, Bastia, FRA:
4x3, sm: Kevin Lesa-Nguivason, Fra KO 1 Joseph Antoine Legato, Fra
sm: Dimitri Gourier, Fra W 4 Sergei Bannov, Est

Nov 24, Schiltigheim, FRA:
sw: Mevludin Suleymani, Fra D 4 Mbemba Miesi, Fra

Nov 24, Wiener Neustadt, AUS, Nove Arena, FvA
4x3, sm: Thomas Postenrieder, Aus TKO 1 Janos Lakatos, Hun
4x3, sw: Salman Mekhtiev, Aus TKO 4 Karoly Lakatos, Hun

Nov 24, Nuremberg, GER, Loewensaal, bdb
10x2, sl: Prisca Vicot, Fra TKO 3 Nana Chakhvashvili, Geo
UBC title??
sw: Stefano Castellucci, Ita W 6 Davide Doria, Ger
4x3, c: Armend Xhoxhaj, Ger KO 2 Radek Geissmann, Ger

Nov 23, Lessines, BEL: Elite Promotion
Meriton Karaxha, 66,3, Bel TKO 1 (2.37) Jean Moraiti, 66,3, Fra
Karaxha floored Moraiti with bodyshots that included a low blow but before the referee could act Moraiti and his corner retired. WBFed Int´l title.
6x3: Wabaga Minisensi Jr, 73,0, Bel KO 1 Vladimirs Sukovs, 71,6, Lat
Jordan De Simone, 63,5, Bel W 6 Angelo Turco, 64,3, Bel

Nov 22, Vladikavkaz, RUS, Ural Boxing Promotions
4x3: Linar Francois Perez, 91,0, Cub TKO 1 (0.28) Isa Jamaldinov, 89,4,
4x3: Tair Kelekhsaev, 108,5, TKO 2 (2.16-1kd/b) Ivan Aratsky, 116,0,
Daniel Negat, 88,0, W4-U Khetag Mouraov, 90,0,
40-35 on all cards. Mouraov had a point deducted in the second for holding.
Soslan Tedeev, 61,7, W8-U Rustem Fatkhullin, 61,9,
80-72, 78-74 and 78-74.
Aslan Kabisov, 60,3, W4-U Rajabmurot Ibodov, 60,4, Tag
40-36 twice and 39-37.
Sarmat Tadtaev, 76,0, W6-U Artem Vychkin, 77,0,
59-54 twice and 58-55. Vychkin was down in the first.
4x3: Soslan Bayev, 64,0, TKO 3 (2.30) Mohamed Alkhas, 65,4,
6x3. Alan Khugaev, 64,0, KO 2 (1.38) Tornike Kandelaki, 63,0, Geo

Nov 17, Namur, BEL:
4x3: Stefan Voda, 59,9, Bel KO 4 Denis Muaremovcki, 59,8, Mac

Nov 17, Remscheid, GER, Sporthalle West, gba
m: Ibrahim Yildirim, TKO 1 (1.58) Kemal Faik,
h: Daniel Balabula, TKO 2 (2.13) Nikola Spasojeviv,
h: Huenkar Polat, TKO 4 Samir Begic,
6x3, sw: Malik Yasir, TKO 3 (0.54) Robin Schoengart,
4x3, m: Armin Malakzadeh, TKO 1 (2.23) Baskim Jakupi,
m: Sergej Wotschel, TKO 4 (not out-cuts) Zoran Sekularac, Ser
4x3, c: Kai Hildebrandt, TKO 1 (1.45) Amir Suljovic,
m: Adem Fetahovic, TKO 2 (not out) Sabri Ulas Göcmen,
lh: Martin Houben, KO 1 (2.06) Armin Kukic,
Per-Åke Persson