News
PERSSON'S EURO RESULTS
13/12/2018 - 22:53:28
EURO RESULTS
By Per-Ake Persson

Dec 9, Moscow, RUS, LLC "Patriot"
Fedor Glazkov, 65,0, D4-M Alexander Grishin, 67,3, Rus
38-38 twice and 39-37 Glazkov.
4x3: Ilya Kvasnikov, 94,2, KO 1 (1.11) Yuri Sotnikov, 91,2,
Sotnikov floored twice.
6x3: Artem Suslenkov, 115,9, TKO 2 (not out) Tornike Puritchamiashvili, 146,9,
Shigabudin Aliyev, 103,2, W6-M Pavel Doroshilov, 107,0,
58-56, 59-55 and 57-57.

Dec 8, Brussels, BEL:
10x2: Nina Radovanovic, 50,4, Ser W 10 Sanae Jah, 50,4, Bel
Radovanovic won the vacant IBO female flyweight title.
10x3: Samuel Gonzales, 63,4, Ven W dq 5 Mohamed El Marcouchi, 62,9, Bel
Gonzales won the vacant IBO Int´l superlightweight title. El Marcouchi was hurt after a clash of heads, went down and a cornerman entered the ring to assist him, which led to a DQ.
6x3: Anass Messaoudi, 68,6, Bel KO 1 Kamil Kroslak, 70,0, Pol
6x2: Djemilla Gontaruk, 63,0, Bel Tdr Karina Kopinska, 62,2, Pol
6x3: Montassar Mechri, 74,0, Bel W 6 Evaristo Kabongo, 72,8, Bel
4x3: Sohaib El Sialiti, 63,0, Bel W 4 Maurycy Gojko, 64,1, Pol
4x3: Andri Tsiura, 72,8, Ukr TKO 2 Hermes Mavuzi Kisombe, 72,8, Bel

Dec 8, Ardooie, BEL:
10x2: Delfine Persoon, 58,8, Bel TKO 10 Judy Waghuthi, 61,2, Ken
Persoon retained the WBC female 130 lb title.
10x3: Brice Galo Bula, 65,5, Bel W 10 Jean Pierre Habimana, 65,5, Bel
6x3: Giovanni Techel, 69,8, Bel TKO 3 Jamal Mahouti, 69,8, Bel

Dec 8, Levallois Perret, FRA, Palais des Sports Marcel Cerdan, Unievent (Sebastien Acaries)
Michel Soro, 69,4, Fra KO 2 Greg Vendetti, 69,0, US
Soro won (?) the vacant (?) WBA Gold (?!) title
10x3: Petro Ivanov, 75,1, Ukr TKO 9 Louis Toutin, 75,0, Fra
Ivanov, down in the second from a left hook to the body, wore down Toutin and won the WBC Youth 168 lb title.
6x3: Mickael Diallo, 76,4, Fra KO 3 Genaro Quiroga, 76,5,
8x3: Mohammed Rabii, 69,1, Mor W8-U Alexander Zhuravsky, 69,2, Kaz
78-74 twice and 79-73.
6x3: Joel Tambwe Djeko, 90,9, Bel W6-U Valery Brudov, 91,5, Rus
59-55 on all cards.
6x3: Kevin Lesa-Nguivason, 75,5, Fra W6-U Ismael Seck, 75,5, Fra
58-53 on all cards.
4x3: Kylian Joos, 61,2, Fra W4-U Quentin Lenaud, 61,8, Fra
40-36 on all cards.

Dec 8, Zagreb, CRO, Drazen Petrovic Halle, Sauerland Event,
h: Efren Rrustemi, Kos vs Victor Emilio Ramirez, Arg
WBFed heavyweight title - called off a few days before. No reason given.
h: Filip Hrgovic, Cro W8-U Kevin Johnson, US/Ger
80-71 on all cards for Hrgovic. Johnson, down in the second, was a late sub for Ytalo Perea and what was a scheduled WBC Int´l / 12 round fight was reduced to an eight-rounder.
Leon Bunn, Ger W8-U Jorge Silva, Por
Bunn was floored late in the first but won on scores of 78-74 twice and 78-73.
10x2, sw: Ivana Habazin, Cro W10-U Eva Bajic (Halasi), Ser
8x3, h: Ivica Perkovic, Cro KO 2 Zoltan Csala, Hun

Dec 8, Hameln, GER, Rattenfanger Halle, Kety Box Promotion, bdb
10x3, sw: Predrag Radosevic, Mne W10-U Ronny Gabel, Ger
Radosevic won the vacant WBO Euro title.
10x3, lh: Emil Markic, Bos W10-U Kavin Gebhard, Ger
WBO Euro 175 lb title. Gebhard was down in the last.
10x3, c: Tahir Kahrovic, Ger TKO 4 Elvis Smajlovic, Bos
vacant WBC Youth title
8x3, lh: Armenak Hovhannisyan, Ger W8-U Yevgeni Makhteinko, Ukr/Cze
8x3, sw: Omar Siala, Ger W6-U Toni Camnin,
h: Hussein Muhamed, Ger ?? Denis Bakhtov, Rus
lh: Benjamin Gavazi, W4-U Aleksandar Kuvac,

Dec 8, Montichiari, ITA:
h: Ivan Di Berardino, Ita, TKO 2 Fabio Tuiach, Ita
Italian heavyweight title
m: Etinosa Oliha, Ita, W 8 Fabio Mastromarino, Ita
sm: Francesco Alberti, Ita, W 6 Andrea Roncon, Ita
w: Dario Morello, Ita, W 6 Igor Faniyan, Ukr
l: Fabio Renna, Ita, DRAW 4 Luka Leskovic, Cro

Dec 8, Malaga, SPA, Club Saga Heredia,
6x3, l: Brandon Oertel, Spa KO 1 Nelson Suarez,
l: Salvador Heredia, Spa W 4 Sergio Gonzales, Spa
sm: Alejandro Mostazo, Spa D 4 Santos Medrano, Spa

Dec 8, Paola, MAL, Corradino Sports Pavilion, mba
6x3, m: Niclas Elfstedt, Swe/Mal W6-U Spiro Sponza, ita
Sponza was down in the fourth but gave Elfstedt a very tough evening. Both suffered busted noses.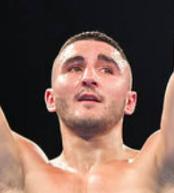 Kevin Escanez
Dec 8, Marseille, FRA:
f: Kevin Escanez, Fra W10-U Yacine Mansour, Fra
Escanez won the vacant French 126 lb title.
lh: Karim Amar, Fra W 4 Mikael Mathieu, Fra
4x2, sf: Helena Claveau, Fra D 4 Ksenija Medic, Ser

Dec 8, Amboise, FRA:
6x3, m: Beko Murjikneli, Geo TKO 3 Michel Mothmora, Fra
6x3, lh: Thomas Faure, Fra TKO 2 Geriso Aduashvili, Geo

Dec 8, Gironde, FRA:
m: David Lecor, Fra D 6 Younes El Filali, Fra
4x2, f: Nora El Barkani, Fra W 4 Ann Sophie Schneider, Fra

Dec 8, Fourmies, FRA:
sw: Gael Rigobert, Fra W 6 Mickael Grousset, Fra

Dec 8, Divion, FRA:
4x3, sm: Karim Villet, Fra KO 3 Ryan Bonnel, Fra

Dec 8, L´Escarene, FRA:
4x3, sb: Marvin Callea, Fra TKO 4 Ranko Davidovic, Bos

Dec 8, Ekaterinburg, RUS, RMK Boxing Promotions
Akzhol uulu Sulaimanbek, 58,8, W10-U Jon Jon Estrada, 57,5, Phi
99-91 twice and 97-93.
8x3: Evgeny Romanov, 102,3, TKO 6 (1.13) Gabriel Enguema, 99,5, Spa
Sergey Vorobyev, 70,0, W8-U Abel Nicolas Adriel, 70,3, Arg
78-74 twice and 80-72.
8x3: Alexander Sharonov, 69,0, KO 3 (0.55) Guerin Soh Fonkou, 67,1, Cam
6x3: Mehdi Abdurashedov, 51,8, KO 5 (0.41) Prince Andrew Laurio, 51,0, Phi
Denis Khamatov, 80,6, W6-U Daniel Negat, 82,6,
60-54 on all cards.
Roman Zakirov, 71,4, W6-U Karen Avetisyan, 71,6,
Sardor Muzaffarov, 56,3, Uzb W6-U David Hovannisyan, 56,1,
59-55 on all cards.
Ilya Balandin, 75,6, W4-S Saidov Ahmadchon, 75,5, Tjk
39-39 twice Balandin, 39-37 Ahmadchon.
Vladislav Frese, 62,5, W4-M Royal Alyrzaev, 62,7,
40-36, 39-37 and 38-38.
Gaipov Makhmud, 68,8, W4-U Artush Hovhannisyan, 66,6,
40-36 on all cards.

Dec 8, Guardamar del Segura, SPA: KO Boxing
lh: Carlos Lopez, Spa W6-M Felipe Nsue, Spa
60-55, 58-56 and 57-57.
sm: Eusebio Arias, Spa W4-U Georgian Popescu, Rom
40-36 twice and 39-37.

Dec 8, Üback Pallenberg, GER, Black Lion Event Promotion, gba
c: Alexander Frank TKO 5 (0.25) Roman Golovashchenko,
UBO and WBCA titles.
h: Daniel Bulabula, W 6 (60-55) Samef Yaser,
lh: Martin Houbem W 4 (40-37) Edi Sejdinavic,
h: Pascal Wolters, TKO 3 Samuel Zade,
4x3, h: Jurij Frank, TKO 2 (1.30) Dzianis Krana Luban,
lh: Rashad Karimov, TKO 3 (1.07) Ruslan Muradov,
4x3, h: Hünkar Palat, TKO 1 (2.45) Ulas Acikgöz,
4x2, ?: Annika Teike, TKO 3 Jenny Smodis,

Dec 7, Paradas, SPA:
w: Alex Vega, Spa W 6 Jair Cortes, Spa
sw: Artif Daniel, Spa W 6 Ladislav Nemeth, Slo

Dec 7, Almeria, SPA:
sb: Jose Antonio Sanchez Romero, Spa/Fin W 6 Edwin Tellez, Nic/Spa

Dec 7, Brive, FRA, Salle de Trois Provinces, EuroProm
Jordy Weiss, 66,3, Fra W12-U Jose Del Rio, 66,6, Spa
Weiss retained the EU 147 lb title on scores of 118-110 and 117-111 twice.
c: Jean Jacques Olivier, Fra W10-S Brandon Deslaurier, Fra
Olivier won the vacant French 200 lb title on scores of 96-93 and 95-94. The third judge had it 96-93 Deslaurier.
h: Cyril Leonet, Fra W10-U Dennis Lewandowski, Ger
Leonet won the vacant WBFed Int´l title on scores of 100-91 twice and 100-90.

Dec 2, Afragola, ITA:
sl: Gianluca Picardi, Ita, W 6 Simone Curcuruto, Ita

Dec 2, Bagheria, ITA:
w: Giovanni D'Antoni, Ita, W 6 Giuseppe Rauseo, Ita
sl: Giancarlo Bentivegna, Ita, DQ 4 Fabrizio Trotta, Ita

Dec 1, Loiano, ITA:
sw: Daniele Zagatti, Ita, W 6 Mauro Loli, Ita
c: Emanuele Venturelli, Ita, DQ 1 Christian Solito, Ita

Dec 1, Cesenatico, ITA:
m: Matteo Signani, Ita, W 6 Milan Savic, BH
b: Giuseppe Bucello, Ita, W 6 Leonardo Bruno Cicopiedi, Arg/Ita

Dec 1, San Valentino Torio, ITA:
l: Sabato Sirica, Ita, W 6 Abdellah Lahlou, Ita

Dec 1, Dessau, GER, Glaspalast, gba
Dessauer Boxnacht: mixed show, proboxing, amateurboxing, K1
8x3, h: Kevin Johnson, US/Ger TKO 3 Haris Radmilovic, Bos
8x3, c: Kristijan Krstacic, Ger TKO 2 Juan Pedro Gugliemetti, Arg
6x3, lh: Steve Kroekel, Ger TKO 4 (not out) Aleksandar Kuvac, Bos
4x3, c: Dokka Mantaev, Ger TKO 1 Radovan Kuca, Cze
Per-Åke Persson