News
PERSSON'S EURO RESULTS
13/03/2019 - 15:51:37
EURO RESULTS
By Per-Ake Persson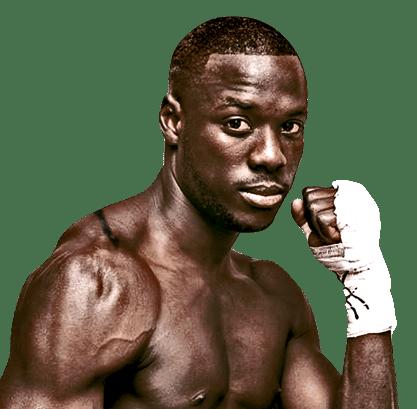 Gustave Tamba
Mar 9, Grande Synthe, FRA:
Kamil Szeremeta, Pol W12-U Andre Francillette, Fra
Szeremeta retained the EBU middleweight title on scores of 117-112 twice and 120-108.
sm: Gustave Tamba, Fra KO 1 Shamil Ismailov, Fra
Tamba won the vacant French supermiddle title.
6x3, m: Joffrey Jacob, Fra TKO 4 (not out) Gurami Kurtanidze, Geo
lh: Pierre Hubert Dibombe, Fra W6-U Matiouze Royer, Fra
lh: Mehdi Salouane, Fra W4-U Omar Kobba, Fra

March 9, Hangelsberg, GER, Müggelspreehalle, AHUU Promotion, gba
12x3, c: Lukasz Paszkowski, Ger W dq 11 Istvan Kun, Hun
interim GBC World (!!) title.
12x3, m: Denny Lehmann, Ger KO 2 (0.33) Robinzon Omsarashvili, Geo
vacant GBC 160 lb title.
10x3, sw: Mike Jäde, Ger TKO 5 Turgay Uzun, Ger
vacant Int´l German (gba) 168 lb title
10x3, sm: Rodi Kasem, Ger TKO 7 Giorgi Jintcharadze, Ger
GBC I/C 168 lb title.
6x3, sw: Piergiulio Ruhe, Ger TKO 2 Lukas Radic, Cze
c: Petr Fröhlich, Cze W4-U Raoul Mbetou, Ger
c: Adam Gadajew, Ger W4-U Igor Pylypenko, Ukr
4x3, sm: Piotr Bzmajda, Pol TKO 2 Patrik Filo, Cze

March 9, Aranjuez, SPA: Gran Casino,
8x3, lh: Carlos Lopez, Spa TKO 4 Javier Fuentes, Spa
Lopez won the regional championship of Madrid.
6x3, sf: Bernard Torres, Nor TKO 2 Rafael Castillo, Spa
6x3, sl: Nelson Dotel, Spa TKO 4 Israel Munoz, Spa
w: Leonel Rodrigo, Spa W 4 David Gonzales, Spa
l: Eduardo Cobos, Spa W 4 Antonio Rodriguez, Spa

Mar 9, Moralzarzal, SPA, Pabellon Ciudad Deportiva Navafria
10x2, miniweight: Joana Pastrana, Spa W10-U Ana Arrazola, Mex
Pastrana retained the IBF female minimumweight title scored 100-90 twice and 99-91.
6x3, c: Ferit Keta, Alb KO 5 Emilio Ezequiel Zarate, Arg
f: Mustafa Gueye,Spa D6-U Sergio Gonzales, Spa
57-57 on all cards.
4x3, sw: Diego Jair Ramirez, Spa TKO 1 Enrique Celis, Spa

Mar 9, Sevilla, SPA, Hotel NH Collection
sw: Francisco Duran, Spa W 4 Pako Amado, Spa
4x3, w: Deiby Lima, Spa TKO 2 Alex Vega, Spa
sw: Manuel Perez, Spa W 4 Vitor Duarte, Spa

Mar 9, Geneve, SWI:
Ornella Domini, 65,2, Swi W10-U Szilvia Szabados, 66,2, Hun
Domini won the vacant EBU female welter title.
Bruno Tavares, 79,3, Por/Swi W 10 Nika Smolan, 79,3, Geo/Swi
Swiss title. Tavares was down the second but won clearly.
Julien Calvete, 58,0, Swi TKO 4 Ilia Beruashvili, 57,0, Geo
Arber Ibishi, 58,0, Kos/Swi W 6 Luka Tchilauri, 58,5, Geo

Mar 9, Krymsk, RUS; LCC Patriot
6x3: Sergey Kozhukhar, 79,5, TKO 2 (0.42) Islombek Satibaldiyev, 82,0,
6x3: Alexandar Elizarov, 73,6, TKO 2 (2.37) Alexey Stryganov, 72,7,
Stryganov was down in both the first and second.
Ilya Freymanov, 70,6, W4-U Christian Nintidem Donfack, 70,8, Cam
40-35 twice and 40-36, Donfack was down in the fourth.

Mar 9, Chateau Thierry, FRA:
6x3, sm: Julien Sossai, Fra KO 2 Alexandre Destang, Fra
l: Youssef Ouali, Fra W6-U Jimmy Lecomte, Fra

March 9, Pezenas, FRA:
l: Jaouad Belmehdi, Fra W6-U Issa Mourzaev, Fra

March 9, Creutzwald, FRA:
sw: Abdel Malik Ladjali, Fra W6-U Kassimou Mouhamadou, Fra

March 9, Bayeux, FRA:
sw: Dimitry Halley, Fra W6-U Ahmed Issa, Fra

Mar 9, Kortrijk, BEL:
10x2: Delfine Persoon, Bel TKO 6 Melissa St Vil, US
Persoon retained the WBC female 135 lb title.
8x3: Giovanni Techel, Bel TKO 3 Angelo Turco, Bel
Denis Rosescu, Bel, W6-U Jan Julius Humme, Nth

Mar. 9, Molfetta, ITA:
Cr: Giuseppe Claudio Squeo, Ita W 6 Jozsef Racz, Hun

Mar. 9, Bologna, ITA:
SL: Arblin Kaba, Ita, W 8 Francesco Acatullo, Ita
SM: Petru Chiochiu, Ita KO 4 Pavel Zgurean, Ita

Mar. 9, Tarquinia, ITA:
S-Ft: Nicola Henchiri, Ita W 6 Levani Tsiklauri, Geo
S-Ft: Christian Gasparri, Ita W 6 Valeri Vachridze, Geo

Mar 9, Cologne, GER, Panther Gym, Cemal Gülzen, gba
c: Fatih Altunkaya, Ger TKO 2 (not out) Lars Burry, Ger
Burry, down in the first, did´t come out for the second due to a hand injjury in this WBU European title fight.
6x3, sw: Sergey Wotschel, Ger KO 1 (1.52) Robin Schöngarth, Ger
sm: Cihad Akipa, W 4 Nazar Thiaka,
4x3: c: Pascal Walter, Ger TKO 3 (1.45) Murteza Husein,
4x3, lh: Mohammed Boulahya, Ger TKO 1 (1.41) Badran Badran,
4x3, lh: Terry Zunke, Ger TKO 4 (2.26) Mario Obenauer, Ger

Mar. 8, Calolziocorte, ITA:
Women, L: Elena Ghezzi, Ita W 6x2 Giulia Grenci, Ita

Mar. 8, Milano, ITA:
Erika Cruz Hernandez, kg 56.5, Mex W 10x2 UD Vissia Trovato, kg 56.950, Ita
(vacant WBC Silver Female Featherweight Title)
scores: 98-90, 98-90, 96-91
Daniele Scardina, kg 75.3, Ita W 10 UD Henri Kekalainen, kg 73.9, Fin
(vacant IBF International Super-Middleweight Title)
scores: 99-91, 99-91, 99-91
Maxim Prodan, kg 65.9, Ukr/Ita W 10 UD Steve Jamoye, kg 66.4, Bel
(vacant IBF International Welterweight Title)
scores: 98-91, 97-93, 96-93
Samuel Nmomah, kg 70.250, Ita W 6 Adam Cieslak, kg 70.2, Pol
Mirko Natalizi, kg 71.350, Ita W 6 Predrag Cvetkovic, kg 71.1, Ser
Dario Morello, kg 67.4, Ita W 6 Ivan Njegac, kg 68.2, Cro
Marzio Franscella, kg 75.150, CH/Ita W 6 Frane Radnic, kg 75,3, Cro
SM: Jamie Cox, GB, vs Geard Ajetovic, Ser

Mar. 8, Chieti, ITA:
Emanuele Cavallucci, 65.9, Ita TKO 5 Nicola Cristofori, kg 66.5, Ita
(Italian welterweight title)
LtH: Adriano Sperandio, Ita W 6 Giorgi Arabuli, Geo
SM: Davide De Lellis, Ita KO 1 Goga Skhulukhia, Geo

Mar 8, Rouen, FRA:
6x3, c: Herve Lofidi, Fra TKO 2 Ivan Lysytsia, Ukr
sw: Romain Nemery, Fra W6-U Luka Gogoberishvili, Geo
lh: Mathieu Raymond, Fra W 4 Sergei Bannov, Est

Mar 7, Nice, FRA:
8x2, f: Ainara Mota, Fra W 8 Nahed Kharchi, Fra
French female 126 lb title.
4x3, sw: Mondhor Yacoubi, Fra TKO 2 Jonathan Okito, Fra

Mar 3, Voronezh, RUS, Victory Tim Boxing Promotion LLC
Evgeny Terentyev, 72,1, W10-U Arthur Osipov, 72,5
98-93 twice and 96-94.
Batal Cheziya, 76,2, W8-U Said Mbelwa, 75,9, Tan
80-72 on all cards.
Arsen Aziev, 80,4, W8-U Ondrey Budera, 79,8, Cze
80-71, 78-74 and 78-74. Budera was down in the first.
David Aghajanyan, 59,0, W8-U Bakhyt Abdurakhimov, 59,0, Uzb
80-73, 80-72 and 79-74.
6x3: Dmitry Muratov, 73,1, KO 1 (0.15) Stanislav Granne, 72,5,
Oleg Misyura, 76,1, W6-S Ayub Bozurkaev, 76,2,
58-57 and 59-55 Misyura. and Bozurkaev 58-56.
Arstan Umbitkulov, 64,5, W6-U Arkady Harutyunyan, 65,0,
60-53 on all cards. Harutyunyan down in the sixth.
David Veshaguri, 84,0, W4-U Daniel Negat, 83,9,
40-36 on all cards.
Per-Åke Persson