News
PERSSON'S EURO RESULTS
21/08/2019 - 13:08:56
EURO RESULTS
By Per-Ake Persson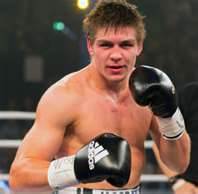 Vincent Feigenbutz
Aug 17, Ludwigshafen, GER, Friedrich-Ebert-Halle, Team Sauerland, FvA
12x3: Vincent Feigenbutz, 76,0, Ger TKO 8 Cesar Nunez, 76,2, Arg
Nunez was floored twice in the 8th and it was stopped and Feigenbutz won the IBO Int´l title.
Ahmad Ali, 69,7, Ger W12-U Arman Torosyan, 69,6, Ger
Ali won the GBU title on scores of 117-109, 115-113 and 117-110.
6x2: Sophie Allisch, 56,8, Ger W6-U Vanesa Caballero, 56,7, Spa
60-54 on all cards.
8x2: Katharina Thanderz, 61,2, Nor/Spa W8-U Monica Gentili, 60,6, Ita
80-72 on all cards.
6x3: Hadi Srour, 69,0, Nor W6-U Evgenii Vazem, 69,7, Rus
59-55 on all cards.
6x3: Benjamin Gavazi, 82,5, Ger W6-U Ondrej Budera, 82,5, Cze
59-55 on all cards.
6x3: Dimitar Tilev, 77,9, Bul W6-U Rene Molik, 76,7, Cze
59-55 on all cards.

Aug 17, Usti nad Labem, CZE, Hospudka Eden,
6x3, h: Tom Schwarz, Ger TKO 1 Radek Varak, Cze
6x3, lh: Adam Deines, Ger TKO 5 Josef Lehr, Ger

Aug. 11 Roccamontepiano, ITA:
lth: Luca Spadaccini, Ita TKO 2 (Rtd) Henri Ademaj, Alb
sl: Mattia Di Tonto, Ita TKO 2 Serhio Shemitraku, Alb

Aug. 4, Campobello di Mazara, ITA:
sw: Antonio Gualtieri, Ita W 6 Jorge Ortiz, Col

Aug. 3, Corbara, ITA:
l: Francesco Acatullo, Ita W 6 Zlatko Janjic, Ser
l: Vincenzo La Femina, Ita W 6 Sabatino Sirica, Ita

Aug. 2, Vasto, ITA:
w: Stefano Ramundo, Ita W 6 Christian Bozzoni, Ita

July 27, Patrica, ITA:
sw: Daniele Iacovissi, Ita DRAW 6 William Andres Gomez Vargas, Ita
l: Vincenzo Finiello, Ita W 6 Marko Dmitrovic, B&H

July 12, Firenze, ITA:
cr: Eduardo Giustini, Ita W 6 Stefano Capone, Ita

Aug 10, Nyslott (Savonlinna); FIN, Operastage (outdoor), Veljekset Pekkonen OY / Pekka Mäki
Edis Tatli, 65,7, Fin W8-U Bernan Sanchez, 66,0, Nic
80–73, 79–73 and 80–73.
Oskari Metz, 66,6, Fin W6-U Bibi Ondua, 66,4, Fra
60-54 on all cards.
Jose Antonio Sanchez Romero, 55,6, Spa/Fin W6-U Yesner Talavera, 57,0, Nic/Spa
6x3: Timo Laine, 78,4, Fin TKO 2 (2.23) Davyd Horokhvets, 78,0, Ukr
Laine was first signed to fight Marko Mononen at "catchweight", 87 kg, but Mononen had to pull out due to family reasons.
Nordeen Toure, 65,9, Fin W6-U Fernando Valencia, 64,5, Mex/Spa
59-55, 60-54 and 59-57.
Dayron Lester, 81,5, Fin W6-U Denyz Kozakov, 79,1, Ukr
+ 2 amateur fights

Aug 10, Kiev, UKR; Caribbean Club, Vlad Eliseev Boxing System
m: Dmytro Mitrofanov, Ukr TKO 4 Rafal Jackiewicz, Pol
m: Khasan Baysangurov, Ukr TKO 1 (2.18) Ilya Harlamov, Blr
m: Khussein Baysangurov, Ukr TKO 2 Badri Gogichasishvili, Geo
lh: Ramil Gadzhiev, Ukr W8-U Alexander Petrovic,
79-73, 79-74 and 78-74.
Shamil Galaev, Ukr W8-U Andriy Moreiko,
80-72 twice and 77-76.

Aug 10, Achkhoy-Martan, RUS,
8x3: Magomadov Abubakar-Sidik, 69,2, TKO 5 (not out) Kishev Bay, 69,4
This was for the championship of the Northaukasus.Federal District.

Aug 10, Hal Luqa, MALTA, Montekristo Estates, Chavez Boxing Promotions, mba
f: Kerstin Brown, Mal W8-U Nukri Gamgebeli, Geo
Brown won the vacant UBO European featherweight title.

Aug 10, Rogoznica, CRO, Marina Frapa Resort, Ugro Box Team
h: Mark de Mori, Aus/Cro KO 1 Laszlo Penzes, Hun
lh: Hrvoje Sep, Cro TKO 1 Sinisa Kondic, Hun
6x2, sw: Maria Lindberg, Swe/Ger TKO 2 Edita Karabeg (ex Lesnik), B & H
4x3, c: Mohammed Ali Bayat Farid, KO 1 Ivan Sakic, B & H
4x3, h: Marko Vucevic, Cro TKO 2 (not out) Sejfula Berisa, Ser

Aug 10, Berlin, GER; Maritim Hotel, Huck Sports Promotion,
10x3, m: Maher Ayada, Ger KO 6 Morrama Santos, Bra
6x3, lh: Armenak Hovhannisyan, Ger TKO 2 Adnan Hadzihajdic, B & H

Aug 7, Togliatti, RUS, LLC SKV Boxing
4x3: Arthur Bakunts, 79,5, TKO 1 (2.30) Ivan Ivanov, 78,5, Rus
Ivanov down at 0.50 stopped at 2.30.
4x3: Ravshan Ergashev, 75,6, TKO 1 (2.46) Artem Vychkin, 76,4,
Nikita Botrovsky, 76,6, W4-U Alisher Ashurov, 75,3,
40-36 on all cards.
Daniel Kurnakov, 73,1, W4-U Alexander Alipov, 72,0,
40-36 on all cards.
Edgard Moskvichev, 72,6, W8-U Roman Klemeshov, 72,0,
80-72 twice and 79-73.
Said Chaloyan, 61,0, W4-U Rustam Terentyev, 60,1,
39-37 twice and 40-37.
Per-Åke Persson