News
PERSSON'S EURO RESULTS
25/09/2019 - 15:57:41
EURO RESULTS
By Per-Ake Persson

Sep 21, Shkoder, ALB: Fight Life / GG New York Promotions
8x3, h: Pezhman Seifkhani, 114,6, Swe KO 1 Andres Balasz Farkas, Hun
8x3, lh: Marko Calic, 82,0, Cro KO 1 Balasz Horvath, Hun
6x2, w: Patricia Berghult, 66,7, Swe W 6 Borislava Goranova, Bul
6x3, sw: Emil Pettersson, 67,5, Swe KO 1 Anatoli Lyubenov, Bul
6x3, f: Ardit Murja, Alb KO 1 "Isus Velchkov", Bul
"Velichkov" appears to lose his legs early and is then hit by a decent jab, and goes down in delayed effect out of this world and could not be revived. He died but of what is difficult to say. It was later revealed that "Velichkov" was one Boris Zanchov, later named Boris Velichkov, cousin of Iasus and he claimed his cousin had used his license since 2018 and fought eight times. If this is true, how common is it with imposters and why not check both ID and license to prevent??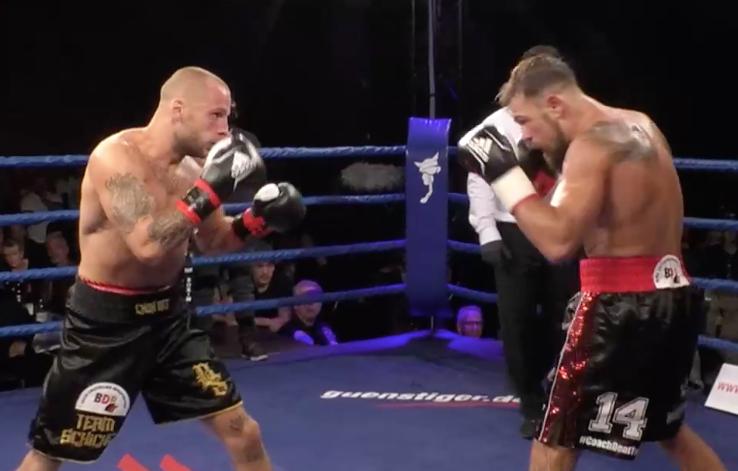 Björn Schicke against Ronny Mittag
Sep 21, Zinnowitz, GER, Fritz Sdunek Halle, AGON Sports, bdb
Fritz Sdunek Memorial
Björn Schicke, 72,1, Ger D10-M Ronny Mittag, 72,5, Ger
Schicke retained the German - BDB title with a draw vs Mittag, who was first declared winner but after a call to the BDB General Secretary (!) it was corrected.
Fabian Thiemke, 79,1, Ger W4-U- Moris Markowitsch, 78,3, Ger
sm: Wiliam Scull, Cub/Ger W8-U Siarhei Khamitski, Blr
sw: Haro Matevosyan, Ger W8-U Bernard Follea, Fra
8x3, h: Evginios Lazarides, Gre/Ger TKO 5 Denis Bakhtov, Rus
Vincenzo Gualtieri, Ger TKO 4 (not out) Valentyn Kuts, Rus
Kuts retired with an injured hand.
h: Lenier Pero, Cub/Ger W 6 Pavel Doroshilov, Rus

Sep 21, Hangelsberg, GER, Müggelspreehalle, AHUUU Promotion, gba
sw: Rodi Kasem, Ger W12-S Zoltan Szabo, Hun
Kasem won the vacant GBC title on scores of ...
12x3, m: Denny Lehmann, Ger KO 1 Tamas Laska, Hun
vacant GBC 147 lb title.
sw: Mike Jaede, Ger KO 5 Nico Salzmann, Ger
vacant GBC I/C 154 lb title.
m. Otati Gogoberishvili, Geo W10-S Jhad Nasif, Ger
vacant GBC Youth title.
sw: Nick Klappert, Ger W6-U Mazen Gierke, Ger
6x3, m: Robert Larsen, Den/gba KO 2 Patrick Filo, Cze
Three knockdowns from bodyshots and it´s over.
6x3, m: Ali Hussein, Den/gba KO 2 Josef Holub, Ger

Sep 21, Dorf Mecklenburg, GER, Sporthalle, PSP Boxteam, bdb
m: Mathias Eklund, Fin W6-U Edis Dzambas, B & H
8x3, h: Jens Tietze, Ger "KO 1 " Nedeljko Cvorovic, B & H
Cvorovic is wrestled down twice and is counted out.
8x3, h: David Wilken, Ger "TKO 1" Sasa Nebrigic, Ser
Nebrigic was floored, got up and took a few more punches and thien it´s stopped.
10x3, b: Prince Patel, UK/? KO 4 Luis Melendez, Col
Melendez was worn down by bodyshots, went down, got up but was counted out standing. Non-title!!
6x3, lh: Nico Chatscharian, Ger KO 3 Dominik Landgraf, Cze
6x3, c: Erdogan Kadrija, Ger TKO 3 Dino Hajdarevic, B & H
c: Kambis Rahmani, Ger W4-U Admir Oglic, Ser
m: Almir Skrijelj, W4-U Jovica Jovanovic, B & H

Sep 21, Woerth am Rhein, GER, bdb
8x3, c: Etem Bayramoglu, Ger TKO 2 Mindia Nozadze, Geo
h: Markus Knoop, Ger D 4 Marcus Alberts, Swe
Knoop was down in the second for what was described as "world´s longest count".
4x3, lh: Arben Shemallari, Ger KO 2 Adnan Hadzihajdic, B & H

Sep 21, Heilbronn, GER, Römerhalle, Thomas Holefeld, bdb
10x3, m: Slawa Spomer, Ger TKO 4 Gergo Vari, Hun
6x3, lh: Sukru Altay, Ger TKO 3 Aleksandar Nikolic, Ser

Sep 21, Madrid, SPA, Gimnasio del Rayo Villecano,
sf. Daniel Fadina, Spa W6-U Ricardo Fernandez, Spa
6x2, f: Enerolisa De Leon, Spa TKO 1 Karla Mendoza, Spa
sw: Jorge Pinilla, Spa W4-U Carlos Cuesta, Spa
sf: Pedro Manuel Gomes, Por W 4 Hermin Isava, Ven/Spa

Sep 21, Sevilla, SPA:
6x3, sl: Karen Arutiunian, Spa KO 6 David Pineda, Spa
4x3, b: Dionis Martinez, Spa TKO 2 Alberto Marquez, Spa
sw: Oscar Diaz, Spa W 4 Hubert Roger Kuate, Spa

Sep 21, Budakalasz, HUN:
10x3, m: Norbert Harcsa, Hun TKO 9 Barnabas Hegyi, Hun
Harcsa won the vacant Hungarian title.
c: Ferenc Urban, Hun W10-U Joszef Darmos, Hun
Urban won the Hungarian cruiser title.
sw: Renato Egedi, Hun W8-U Gabor Gorbics, Hun
8x3, sw: Zoltan Kispai, Hun TKO 4 Peter Kramer, Hun
8x3, c: Cezar Juratoni, Hun TKO 2 Ermin Avdic, B & H
w: Daniel Buciuc, Hun W 6 Bakar Gelenidze, Geo
w: Henrik Serban, Hun W 4 Istan Kovacs, Hun

Sep 21, Rotterdam, NTH:
sf: Mustafa Akraa, Nth W 4 Kristian Bejko, Alb

Sep 21, Gebenstorf, SWI:
Egzon Maliqai, 72,1, Swi TKO 8 Milan Zivkovic, 68,9, 68,9, Ser
no suspension necessary.
Sladjan Dragisic, 73,6, Ser KO 1 Elvio Mariusz Antonetti, 71,3, Sw
90 days medical suspension for Antonetti,

Sep 21, Riga, LAT. Arena Riga, GRAND Boxing Promotion (Andrejs Gromovs), br selected results
w: Ivans Levickis, W6-U Sandro Jajanidze,
m: Artem Karasev, W6-U Aliaksandr Dzemka,
6x3, sb: Lauris Marhilevics, TKO 2 Mishiko Shubitidze,
6x3, h: Louison Loizou, TKO 4 (not out) Artsiom Charniakevich,
6x3, h: Kristaps Zutis, KO 1 Danny Williams,
f: Ruslan Berchuk, W6-U Stefan Nicolae,

Sept. 20 2019, Schio, ITA:
Luca Rigoldi, kg 54.750, Ita W 12 UD Oleksandr Yegorov, kg 54.800, Ukr
(Rigoldi retained EBU super-bantamweight title))
scores: 120-110, 120-110, 117-111
m: Etinosa Oliha, Ita TKO 2 Santos Medrano, Nic
m: Ognjen Raukovic, Ser W 6 Petru Chiochiu, Ita
w: Nicola Cristofori, Ita W 6 Ivica Gogosevic, Ser
sl: Antonio Casali, Ita cTKO 3 Marco Massignan, Ita
b: Cristian Zara, Ita W 6 Boban Nikolic, Ser

Sep 19, Firenze, ITA:
Sam Eggington, kg 69.500, GB TKO 2 Orlando Fiordigiglio, kg 69.400, Ita
(vacant IBF International super-welterweight title)
Luther Clay, kg 66.500, GB PT 10 UD Dario Morello, kg 66.300, Ita
(WBO Global welterweight title)
Devis Boschiero, kg 58.700, Ita TKO 8 Ivan Thomas, kg 58.600, Spa
(vacant IBF International super-featherweight title)
Mohammed Obbadi, kg 53, Ita W 8 Cristian Narvaez, kg 52.700, Nica
Carmine Tommasone, kg 58.500, Ita W 6 Brayan Mairena, kg 58.300, Nic
Sebastian Mendizabal, kg 65.300, Ita TKO 3 Oruam Racso Romero Camacho, 65.900, Ita
Jordan Gill, kg 58.700, GB W 6 Yenser Talavera, kg 60.400, Nic

Sep 19, Grozny, RUS, Uvais Akhtaev Sports Palace
Aslambek Idigiov, 75,9, W10-U Robert Racz, 75,3, Svk
IBF and WBO Euro titles, scored 98-94, 98-92 and 97-93.
Umar Salamov, 79,3, KO 3 (2.44) Emanuel Danso, 76,7, Gha
WBO Int´l title. 20-18 on all cards Salamov after two. Danso down twice.
Apti Davraev, 112,7, TKO 1 (1.09) Daniel Martz, 117,0, US
Martz was down three times. WBC Asian Council Continental title (?)
4x3: Abdul-Kerim Edilov, 105,7, KO 1 (1.27) Irineo Beato Casta Junior, 105,9, Bra
Jackson Chaute, 50,8, RSA W10-U Medhi Aburashedov, 50,8, Rus
96-94 on all cards. WBC Int´l title.
Apti Ustarkhanov, 72,0, W10-S Lukas Ndafoluma, 72,0, Nam
WBC Asian Continental title, 97-93 twice for Ustarkhanov and 96-95 Ndafoluma,
Adlan Abdurashidov, 63,5, W10-U Paulus Moses, 63,5, Nam
100-90 on all cards. WBC Asia Silver.
10x3: Ramzan Baysarov, 69,8, KO 1 (1.48) Solomon Bogere, 69,8, Uga
WBA Asia East (?).
Rizvan Elikhanov, 73,0, TKO 5 (not out) Artem Karpets, 73,2, Pol
Idris Shakhmanov, 81,0, W6-U Konstantin Piternov, 83,5,
60-54 on all cards.
6x3: Hussein Side Musalipov, 68,0, TKO 4 (not out) Eugene Klimov, 68,2,
30-37 on all cards for Musalipov.
8x3: Sadam Elbiev, 80,0, TKO 3 (1.45) Sergey Beloshapkin, 81,5,
20-18 on all cards for Elbiev,
10x3: Rashid Jkitio, 66,7, TKO 3 (not out) Bay Kishev, 67,8,
Kishev not out for the third. 20-18 on all cards Jkitio.

Sept. 17 2019, Giugliano in Campania, ITA:
b: Tommaso Melito, Ita TKO _ Franko Lushnjani, Alb

Sept. 14, Laglio, ITA:
Ft: Suat Laze, Ita W 6 Pio Antonio Nettuno, Ita

Sept. 13, Chieti, ITA:
sl: Mattia Di Tonto W 6 Nikola Ivkovic, B&H

Sept. 13, Lanciano, ITA:
w: Stefano Ramundo, Ita W 6 Michael Isaac Carrero, Nic

Sept. 1, Villabate, ITA:
w: Giovanni D'Antoni, Ita W 6 Michael Isaac Carrero, Nic
Per-Åke Persson