News
PERSSONíS EURO RESULTS
14/02/2013 - 8.33.48
Euro Results
By Per-Ake Persson
Feb 9, Esbjerg, DEN, Blue Water Dokken, est 2000, SPAG (Team Sauerland)
Alex Miskirtchian, 56,5, Bel TKO 12 (2.23) Andreas Evensen, 56,9, Nor/Fin
Miskirtchian retained the EBU title in this mandatory defence after a hardfought, absorbing contest. Evensen was floored in the final round and allright as he got up but his was a mess - to put it mildly - and referee Howard Foster called it off. The Norwegian was also down in the third and hurt in the seventh. Inbetween his face was cut, bruised and swollen and it all got worse due to poor cornerwork. However, Evensen was relentless and just kept coming and while seldom effective he won rounds on sheer workrate. After eleven it was scored 105-104 twice and 105-103.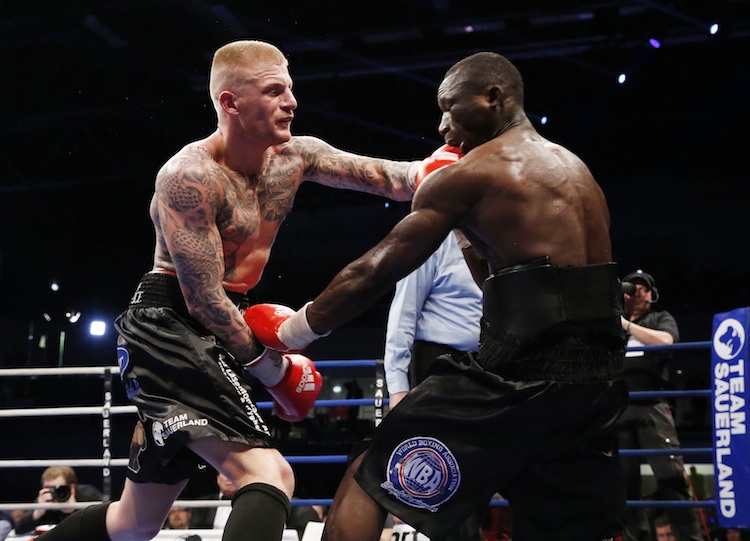 Patrick Nielsen and Patrick Mendy
(
Foto
:
Photo Wende
)
Patrick Nielsen, 72,4, Den W12-U Patrick Mendy, 71,7, Uk
Nielsen retained the WBA I/C title on scores of 117-110 twice and 117-111.
Mendy was down in the fifth but it looked more like a slip than anything else. Nielsen, a southpaw, had things his way the first five but was too eager and lost his temper. In the sixth Mendy came out fighting as a southpaw and had the Danish Patrick confused and from hereon the fight was even, tough, ill tempered and messy
6x3. Micki Nielsen, 90,9, Den "KO 1" (0.23) Josef Krivka, 87,5, Cze
Krivka went down and out from a southpaw left to the body with the crowd booing.
4x3. Denis Ceylan, 58,0, Den "KO 1" (1.06) Marco Scalia, 57,2, Ita
A right to the side of the body and Scalia went down and out rather easily.
10x3: Erik Skoglund, 79,0, Swe/Den KO 2 (2.02) Attila Baran, 79,0, Hun
Skoglund turned southpaw in the first, set things up nicely and then in the second scored with a right upercut and a dynamite right and Baran went down on all four and looked like a Mike Tyson victim as he struggled to get up but was ruled out.
Deion Jumah, 87,9, Uk/Aus W4-U Igor Pylylpenko, 90,2, Ukr
40-36 on all cards but Jumah failed to shine, had his chin up and his punches lacked timing.
Tim Robin Lihaug, 78,4, Nor/Fin TKO 3 (0.36) Tomas Kugler, 77,8, Cze
Kugler looked totally shot and should have been rescued in the second as he was out on his feet but it wasn´t until the third when Tomas finally sat down that it was stopped.
Shahriyar Weissi, 86,1, Den W4-U Lasse Pedersen, 87,2, Den
Pedersen, a southpaw, tried to box but couldn´t keep the distance and floored by a bodyshot in the third before coming back. It was scored 39-36 twice and 40-35 after a good fight where Weissi wanted it more.
Peter Gram, 90,0, Esbjerg, Den TKO 4 (0.44) Josip Jalusic, 89,0, Cze
Gram made his prodebut and wore down Jalusic and when Josip finally went down in the fourth it was stopped.
Puriya Haidari, 65,5, Den W4-U Said Rahimi, 64,5, Ger
It was fastpaced with Haidari on top until he got caught in the fourth and received a standing eight count. Haidari was hurt and under pressure throughout the round going down at the end as well but it was ruled a no knockdown. 38-37 Haidari on all cards.
6x3: Josef Obeslo, 81,4, Cze TKO 1 (2.35) Ismail Özen, 79,0, Ger
Özen tried to box off the ropes but was caught, was hurt and took a standing eight count but didn´t recover and as Obeslo poured it on it was stopped with Ismail in his own corner.
Feb 9, Boffalora sopra Ticino, ITA:
jw; Mattia Cammarano, Ita W 4 Marco Delmestro, Ita
Feb 8, Pont Sant Maxence, FRA:
f: Bastien Rozeaux, Fra W10-U Youssef Agbour, Fra
Rozeaux won the vacant French feather title, scored 100-90, 98-92 twice.
CNE, Yassine Morjane, Fra TKO 1 Jeremy Facq, Fra
Feb 8, Montoir de Bretagne, FRA:
Saidou Sall, 75,35, Fra W 6 (58-57) Yoann Bloyer, 74,8, Fra
Julien Guibaud-Ribaud, 78,95, Fra KO 2 Driss Macer, 78,9, Fra
Feb 8, Torino, ITA:
jl; Benoit Manno, Ita W 6 Zoltan Horvath, Hun
Feb 8, Isola del Liri, ITA:
Michele Crudetti, 54,9, Ita TW 5 Fabrizio Trotta, 55,3, Ita
vacant Italian superbantam title
David Dieli, 59,6, Ita W 6 Luigi Mantegna, Ita
l: Vincenzo Finielli, Ita W 6 Ivan Godor, Slo
f: Giodi Scala, Ita TKO 2 (ret) Szergej Sztankovics, Hun
Feb 2, Berlin, GER, Max-Schmeling-Halle, est 5000, Sauerland Event
Jürgen Brähmer, 78,9, Ger W12-U Eduard Gutknecht, 78,8, Ger
Brähmer won the EBU lightheavy title and WBO eliminator with hardfought points win over Gutknecht, who had a point deducted in the ninth for pushing and holding - and there was lots of it but Brähmer kept coming trying to get on the inside and Gutknecht smothered him and both were guilty even if Gutknecht got most of the blame. Brähmer, still sharp but showing the wear and tear of a long career, was cut by the right eye in the fourth from a legal punch and the cut was quite bad and kept bleeding. It was an exciting, hardfought, tense and heated battle with Brähmer?s southpaw left the winning punch. It was scored
114-113, 117-110 and 116-111 - I had Gutknecht winning and wasn't alone.
Robert Woge, 78,8, Ger TKO 11 (2.25) Halika Zoulikha, 79,1, Fra
Woge won the vacant IBF I/C title after flooring Zalikha in the eleventh with a left hook. Zoulikha was gone but somehow got up and was somehow allowed to continue. Ref Randy Neumann stepped between the fighters to check if Zoulikha was ok, got no reply and waved them on again but the Frenchman sat down as Woge attacked and it was stopped with the French corner protesting. After ten it was scored 96-94, 99-91 and 98-92 for Woge the first score the most accurate in what was a
fastpaced, hardfought brawl with Woge coming forward at all times, stiff and with a leaky defence but a tremendous will and willingness to trade and Zoulikha was worn down.
Dominik Britsch, 76,0, Ger W8-U Luis Crespo, 75,2, Spa
78-72, 79-72 and 79-71. Crespo had points deducted in the fifth and eighth for low blows. Britsch was sharp early but appeared to fade midway and seem to have stamina problems.
8x3: Dustin Dirks, 80,1, Ger TKO 3 (1.17) Christian Cruz, 80,1, US
Cruz was cut on the bridge of the nose and after getting tagged by two heavy rights in the third his cornerman waved the towel and retired his fighter. Cruz's nose was by then pretty busted but he was still in the fight against Dirks, who covered up as usual before letting go with few but heavy punches.
6x3: Tyron Zeuge, 77,4, Ger TKO 1 (2.36) Srdjan Mihajlovic, 77,2, Ser
Mihajlovic walked into a perfect right hand counter and went down heavily and as he got up it was stopped.
Enrico Kölling, 81,0, Ger W6-U Egidijus Kakstys, 79,0, Lit
60-54 on all cards. Kakstys finished badly bruised but was never hurt and Kölling, a former Olympian, have yet to stop an opponent.
4x3: Deion Jumah, 88,2, Uk/Ger KO 1 (3.00) Ruslan Bitarov, 89,3, Lit
Jumah, a southpaw, turned pro and took out Bitarov with a left hook to the body. Jumah had Torsten Schmitz as chief cornerman.
Feb 2, Aulnay sous Bois, FRA; Salle Pierre Scohy,
m: Maxim Bursak, Ukr TKO 3 Julien Sainte Marie, Fra
Bursak won the vacant EBU middleweight title by stopping Sainte Marie.
This fight was first set for Jan 26 but pushed back a week after the venue was flooded. Bursak walked through Sainte Marie with a fast start and keeps it up until the Frenchman, cut early on as well, sat down and the fight was stopped.
8x3, sm: Samy Anouche, Fra KO 1 Gabor Zsalek, Hun
m: Mehdi Bouadla, Fra W 6 Norbert Szekeres, Hun
6x3, b: Mohamed Boulegcha, Fra W dq 5 Csaba Toth, Hun
6x3, jw: Yazid Amghar, Fra KO 2 Mahmoud Taha, Fra
jm: Bruno Marcellin, Fra W 4 Sabri Ben Boubaker, Fra
l: Romain Peker, Fra D 4 William Jules, Fra
c: Antoine Boya, Fra W 4 Laurent Langner, Fra
Feb 2, Seilles, BEL:
10x3: Christophe Dufaux, 90,1, Bel TKO 6 Geoffrey Batello, 90,5, Bel
Belgian cruiser title
Hervé Hubeaux, 112,0, Bel W10-M Toni Visic, 94,0, Cro
WBC Youth title I/C title (!), Visic was down in the first and had a
point deducted in the seventh for dangerous headwork but closed out strongly. 97-92, 96-92 and 95-95.
Fabrice Clement, 86,2, Bel W 4 Josko Basic, 91,5, Cro
Feb 2, Madrid, SPA: Palacio de los Deportes, Rimer Boxe / Club Barcelo
sm: Mariano Hilario, Spa W10-S David Sarabia, Spa
98-91 and 96-93 for Hilario and 96-94 for Sarabia. Spanish title at stake.
c: Xesus Ferreiro, Spa W10-U Adasat Rodriguez, Spa
Spanish cruiser title, scored 98-93, 97-94 and 96-95.
sb: Sergio Prado, Spa W10-U Angel Lorente, Spa
97-93, 96-93 and 95-93, Spanish title. Prado won the title by stopping
Lorente last year but then relinquished the title and Lorente won it.
jw: Ruben Nieto, Spa W10-U Daniel Rasilla, Spa
Spanish jr welter title, scored 98-89, 98-90 and 97-89. Rasilla was down in the fifth, eighth and ninth.
6x3, w: Ceferino Rodriguez, Spa
TKO 6 Miguel Aguilar, Nic/?
4x3, l: Alae Karmoun, Spa WTD 4 Victor Segura, Spa
4x3, w: Sergio Garcia, Spa TKO 4 Enrique Celis, Spa
f: Sergio Romero, Spa W4-U Ryan Peleguer, Spa
Feb 2, Ingelmunster, BEL:
Arno Casteleyn, 78,0, Bel W8-U Carlos Schram, 78,0, Bel
Hedi Slimani, 62,6, Bel W8-U Innocent Anyanwu, 63,1, Nth/Bel
Mounir Rkaibi, 64,5, Bel W6-S Reda Azzaoui, 65,0, Bel
Feb 2, Ballerup (Copenhagen); DEN, Super Arena, EuroEvent
three profights in conjunction with the six dax cycling race.
Claus Bertino, 108,0, Den W8-U Humberto Evora, 98,75, Por
78-73 twice and 77-73. Evora had a point deducted for holding in the
fifth but was the stronger man in the later rounds but was outboxed
early.
4x3: Abdul Khattab, 73,9, Den KO 2 (2.29) Janos Varga, 72,4, Hun
4x3: Stephan Alms, 73,4, Den TKO 3 (1.56) Antal Kubicek, 73,1, Slo
20-17 on all cards after two.
Feb 2, Les Pennes Mirabeau, FRA:
jw: Didier Espin, Fra TKO 3 Rafal Piotrowski, Pol
l: Jean Moraiti, Fra W 4 Gaetan Domitien, Fra
Feb 2, Bourgoin Jallieu, FRA:
sm: Nordine Samoudi, Fra W 6 Ludovic Duval, Fra
4x3, w: Adel Berdouz, Fra TKO 2 James Alves, Fra
Feb 2, Gravelines, FRA:
1/4, TF, 5x3, lh: Stephane Cuevas, Fra TKO 5 Johnny Peterlee, Fra
Feb 1, Duesseldorf, GER, ISS Arena, Sturm Box Promotion
Sam Soliman, 72,5, Aus W12-U Felix Sturm, 72,5, Ger
Soliman, down in the second and outboxed in the first four, outworked Sturm down the stretch for a close, controversial win on scores of 114-113 twice and 116-111.
Susi Kentikian, 50,5, Ger W10-U Sanae Jah, ?, Bel
Kentikian won the interim WBA female fly title with a points win over Jah, who came in on short notice for Anastasia Kouktalova. Jah was down in the sixth.
Lolenga Mock, 79,0, Den W8-U Patrick Dobroschi, 79,2, Ger
Mock, Sturm's sparringpartner since many years, puts some life in his career in his first fight for 20 months and won on scores of 79-72, 79-73 and 78-74.
Maurice Weber, 69,8, Ger W6-U Mariuzs Biskuzpski, 69,8, Pol
58-56 and 60-54 twice.
Adnan Redzovic, 104,0, B & H W6-U Niko Falin, 96,0, Ger
59-55 and 59-56 twice.
jm: Arman Torosyan, Ger W6-U Marcen Gierke, Ger
Alex Born, 76,2, Ger W4-U Rafal Raczynski, 76,2,
Feb 1, Bilbao, SPA: Euskobox
Andoni Gago, 61,237, Spa W4-U Ivan Ruiz Garrado, Spa
6x3, b: Reynaldo Cajina, Spa TKO 1 Vitaly Shivanov, Spa
By Per-Åke Persson