News
TOUGH TEST FOR FREDDIE TURNER
22/05/2013 - 11.17.42
Faces Jay Morris At York Hall On June 1st
TKO EVENTS
Featuring
FREDDIE TURNER VS. JAY MORRIS
1st June 2013 @ York Hall, London
By Gianluca (Rio) Di Caro
London
–
Wednesday
,
22nd May 2013
Canning Town's Freddie Turner is set to make his second outing under the TRAD TKO banner on Saturday 1st June, when he takes on Jay 'IOW Assassin' Morris at York Hall in Bethnal Green, London, on Johnny Eames' TKO Events promoted 'Two Tribes' event, headlined by TRAD TKO gym mate Colin Lynes versus Beka Sutidze.
Turner (pictured), who signed management papers with Johnny Eames back in January, was clearly overjoyed at the resurgence in his career, as the 24 year old said.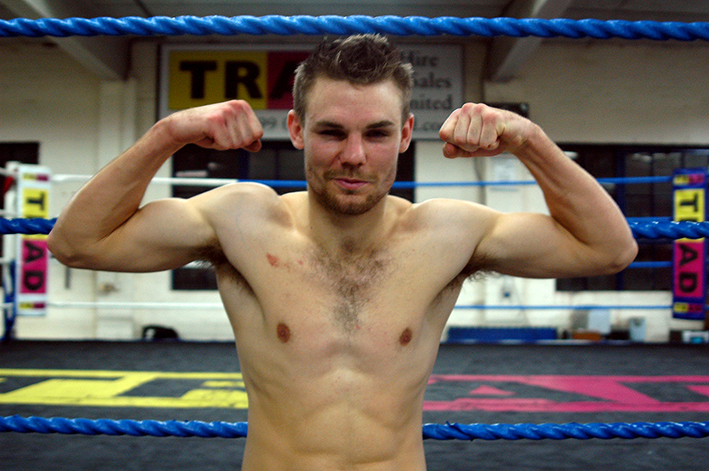 "This is a massive shock, two fights within a couple of months it's an absolute shock, that's a hundred percent improvement from before I was with Johnny (Eames), I mean I fought just once in a year.
Yet here am I in the same gym I train in, my manager's here and he's already telling me I'm fighting again after June 1st.
It's been a blessing signing with Johnny, I've been waiting a long time for a breakthrough and it really looks like this is it.
I'm really ready for this, Jimmy and Mark (Tibbs) train me the same everytime, we train hard and I mix it up with all the big names here, so I know I will be ready for Jay Morris on the 1st June.
We always work hard here at the TRAD TKO, never cut corners, so yeah we'll be looking to put on a great display for the fans.
I boxed well last time out, I feel I boxed well in the first two rounds and feel I could have stopped him in the last two rounds, he was getting well marked up and I was catching him with some good shots.
Hopefully now I can let the boxing flow and the punches go.
I'm not looking past Jay, he's a tough, experienced fighter, but I'm looking forward to the new season. Johnny says he has big plans for me, including lining me up for a title fight late on this year.
I've known Johnny since I was a kid, I trust him and he's clearly looking for my best interests so I know he wouldn't move into title contention if he didn't believe I am ready for it.
I'm quite mature, even though I'm only twenty four, I've had a hundred plus amateur fights, yeah I know I've had a slow start in the pros but under Johnny's guidance I'm moving on at pace now so feel comfortable to be put in.
I love the support I get from the fans, even though I hadn't been in action as much as I and them would have liked previously, I know it's difficult to get to all the shows but it's great that they get out in force to support.
That's what keeps us going, I mean I enjoy entertaining, that's why I do it, so I'm really pleased with having such a good following, so I'm going to put on an entertaining display on June 1stto give my fans something to really enjoy."
Freddie Turner against Jay 'IOW Assassin' Morris is the main support to headlining Colin Lynes versus Beka Sutidze at the Johnny Eames promoted 'Two Tribes Go To War' event at York Hall in Bethnal Green, London on Saturday 1st June 2013.
Tickets, priced £35 (Standard Seated) and £60 (Ringside) are available on line at
www.tkoboxoffice.com
or in person at the TRAD TKO Boxing Gym in Canning Town or direct from Tom Little or any of the fighters taking part.
FURTHER INFORMATION

For further information or interviews with Freddie Turner or Johnny Eames please contact:
Gianluca (Rio) Di Caro
JustListen2This Publicity & Promotion
Tel: (UK) +44( 0)208 166 5694
Tel: (UK) +44 (0)7960 850645
Tel: (UK) +44 (0) 7557 641597
Skype: GianlucaDiCaro
Viber: +44 (0) 7557 641597