News
TEAM GB STAR ANTONIO COUNIHAN TO PRO DEBUT
20/06/2013 - 18.57.41
Living The Dream: Team GB star Antonio Counihan To Pro Debut At York Hall On July 5th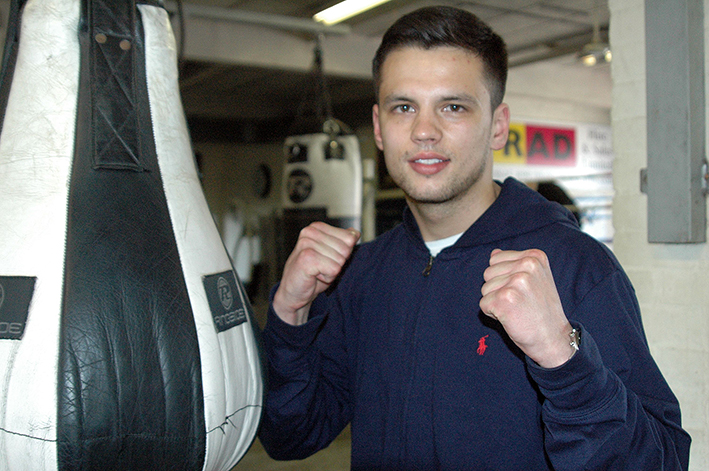 Antonio Counihan / photo Gianluca (Rio) Di Caro
Dave Murphy
,
In Association with

Present

INDEPENDENCE DAY

Featuring

ANTONIO COUNIHAN
VS
ARTURAS ZBARAUKAS

5th July 2013 @ York Hall, Bethnal Green, London

By Gianluca (Rio) Di Caro
London
–
Thursday
,
20th June 2013

Outstanding amateur star Antonio Counihan is set to make his highly anticipated professional debut, on the Dave Murphy, in association with Acourtier Events, promoted 'Independence Day', Retzke-McKenzie World Championship headlined extravaganza, at York Hall on Friday, 5th July 2013.
During his outstanding amateur career Antonio fought eighty competitive bouts, fifteen of which were Team GB Internationals, as well as had the honour of Captaincy of the England National Amateur Boxing Squad bestowed upon him.
Unsurprisingly theSolihull youngster accrued numerous national accolades along the way, including winning the Junior ABAs, The Great Britain Championships and the Haringey Box Cup.
For his debut fight young Antonio has been set the challenge of facing six fight veteran Arturas Zbarauskas from Lithuania, a fact that clearly doesn't faze Antonio one iota, as was made clear when he spoke earlier.
"I've been waiting a long time for my debut, I can't wait to get in there now.
I don't know anything about my opponent, other than he has had six pro fights, that's not a problem as far as I'm concerned.
I'm really looking forward to my first pro fight. I had a pretty good amateur career, but always felt that my style would suit the pros better.
I enjoyed boxing as an amateur but at the end of the day boxing professionally is what I've always wanted and now thanks to Dave Murphy having me fight on his July 5th show I'm finally getting the chance to live my dream.
Training's been going great, I've been training in Birmingham and coming to the TRAD TKO in London for sparring. I'm as ready as I'm ever going to be.
It's really exciting, I'm bringing a lot of fans down to London, I know they can't wait either as we've already got two coaches coming down.
In it's own way it adds a bit of pressure, but that's OK I like pressure and will box to impress and get the first pro win under my belt."
Antonio Counihan versus Arturas Zbarauskas is set to feature on the support card of the historic Female Light Middleweight World Championship battle between Jennifer Retzke and Angel McKenzie headlines the Dave Murphy, in association with Acourtier Events, promoted 'Independence Day' event, which takes place at York Hall in Bethnal Green, London, on Friday 5th July 2013.

FURTHER INFORMATION/INTERVIEW REQUESTS
For further information or interviews with Antonio Counihan, Dave Murphy or any of the boxers taking part in the event please contact:
Gianluca (Rio) Di Caro
JustListen2This Publicity & Promotion
Tel: (UK) +44( 0)208 166 5694
Tel: (UK) +44 (0)7960 850645
Tel: (UK) +44 (0) 7557 641597
Skype: GianlucaDiCaro
Viber: +44 (0) 7557 641597