News
TIMOTHY BRADLEY DEFENDS WBO BELT
13/10/2013 - 12.17.58
Timothy Bradley defends WBO belt
Associated Press - espn.go.com
LAS VEGAS -- Once again, Timothy Bradley's hand was raised in victory. Once again, he heard the boos.

The script was familiar enough Saturday night for Bradley against Juan Manuel Marquez. So, too, was the result.

Bradley did just enough to win once again, beating Marquez by split decision to remain unbeaten and keep his piece of the welterweight title.

"That win was my ticket to the boxing Hall of Fame," Bradley said. "I beat a great champion."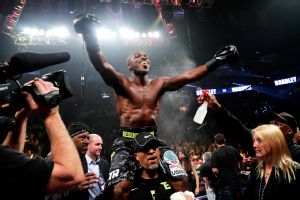 AP Photo/Julie Jacobson "I gave him a boxing lesson," Timothy Bradley said of his opponent Juan Manuel Marquez after earning a split-decision victory Saturday night.
The judges thought so, though the fight was about as close as they come. But the pro-Marquez crowd didn't, and neither did the Mexican fighter who was thwarted in his bid for a title in a fifth weight class at the age of 40.

"I came to win. I felt that I did win," Marquez said. "The judges took it away. You don't have to knock out a guy to win."

Bradley was the more active fighter and came on in the second half of the fight to win. It was the third straight close decision win for Bradley, who was a hotly disputed winner over Manny Pacquiao two fights ago.

Bradley won 116-112 on one card and 115-113 on another, while a third judge had Marquez winning 115-113. The Associated Press scored it 115-113 for Bradley.

Bradley rocked Marquez with a left hook in the final seconds of the final round, the biggest punch of the fight between the last two men to beat Pacquiao.

"He couldn't touch me," Bradley said. "I gave him a boxing lesson."

Coming off a brutal brawl with Ruslan Provodnikov last March that took him two months to recover from, Bradley vowed to fight smart and not engage in a war with Marquez. He used his left jab to keep Marquez away and boxed from the outside for most of the bout before trading wild punches in the final round.

Marquez was in the fight the entire way but at 40 he perhaps wasn't as active as in earlier fights. Bradley was the aggressor most of the night and seemed to control the action from the middle rounds on.

Ringside stats showed Bradley connecting on 168 of 562 punches to 153 of 455 for Marquez. Bradley dominated with jabs, landing 82 of 337 while working much of the night behind his left hand.

The final punch that sent Marquez staggering backward in the 12th round may have prompted two of the three judges to give Bradley the round, but it didn't have an effect on the ultimate decision.

"Tim followed the game plan perfectly," Bradley's manager Joel Diaz said. "No one can outbox Tim Bradley."

The fight was a tactical affair from the start, with Marquez looking to counterpunch and Bradley trying to figure out a way to land some counters of his own. Most of the rounds were close with no telling punches landed, though both fighters loaded up at times trying to land some big shots.

The decision loss was the latest in a series of disappointing decisions that didn't go the way of Marquez. He fought Pacquiao three times, losing twice and getting a draw on narrow decisions before finally knocking him out.

"I've been robbed six times in my career," Marquez said. "I clearly won the fight."

The crowd of 13,111 at the UNLV campus arena cheered wildly for Marquez who, like Bradley, passed up a rematch with Pacquiao in favor of the fight. Marquez knocked Pacquiao out in the sixth round last December, but could never find his big punch against Bradley.

Pacquiao will fight in Macau next month against Brandon Rios instead.

Bradley remained unbeaten in 31 fights with the win, his third narrow decision win in a row. Marquez fell to 55-7-1 and may be near the end of a career that has made him one of his country's biggest champions.

Both fighters earned $4 million.

In another fight, gay boxer Orlando Cruz lost his bid for a piece of the featherweight title, getting stopped in the seventh round by veteran Orlando Salido.

Cruz, the first openly gay active fighter, was outclassed much of the fight by Salido, who landed the heavier punches throughout before knocking Cruz down with a right hand to the head in the seventh. Cruz was on his knees and couldn't get up as he was counted out at 1:05 of the round.

"I went into the corner and he hit me with a good shot," Cruz said. "I thought the fight was close up until then."

Salido, who lost the 126-pound title in his last fight, won it back with an impressive performance against Cruz, a former Olympian from Puerto Rico who last year came out as gay. He took the fight to Cruz and was ahead 59-55 on two scorecards and 58-56 on a third going into the seventh round.

Source: espn.go.com/boxing/story/_/id/9818421/timothy-bradley-defeats-juan-manuel-marquez-split-decision