News
BROOK DEFEATS SENCHENKO TO SET UP WORLD TITLE SHOT
27/10/2013 - 10.24.12
Kell Brook defeats Vyacheslav Senchenko to set up world title shot
• Sheffield fighter stops Ukrainian in fourth round
• Welterweight in line to contest the IBF title
Sachin Nakrani in Sheffield - theguardian.com
Kell Brook's journey to a world title shot has been difficult, but, at last, he is almost there. A fourth-round stoppage of Vyacheslav Senchenko on a raucous night in Sheffield means the boy from the Steel City will face the winner of Devon Alexander and Shawn Porter's contest in Texas next month and, should Brook prevail again, land the IBF welterweight title that would catapult him into global superstardom.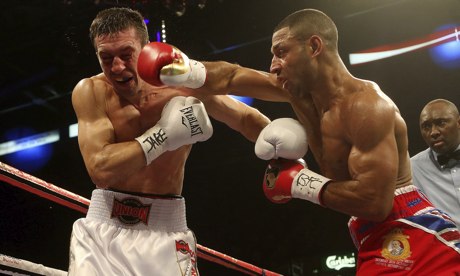 Kell Brook (right) stopped Vyacheslav Senchenko in the fourth round of their IBF welterweight title eliminator. Photograph: Lee Smith/Action Images
Alexander is the current holder and there is surely a large part of Brook that hopes it is the 26-year-old southpaw from Missouri whom he faces, most likely early next year, given three previous bouts between the pair had to be cancelled due to injuries to both fighters. Twice, in January and May this year, it was an injury to Brook that stopped the fight going ahead, and for the 27-year-old it felt increasingly like his big moment would never come. Now, however, Alexander is back in Brook's sights and it could be a case of fourth time lucky in more ways than one.

Brook came into this contest vowing to "destroy" Senchenko and, ultimately, did just that. He started cautiously, which was perhaps understandable against a tall and rangy opponent who packs a heavy punch, as Ricky Hatton found out first hand when Senchenko stopped him with a thumping left to the kidneys in Hatton's comeback fight 11 months ago.

Brook stayed behind his jab and only really picked up the pace in the third round, when he floored the 36-year-old with a powerful right.

It took the former WBA champion eight seconds to regain his senses and, having done so, had the crowd of 8,000 here panicking after a thumping shot to the head forced Brook on to the ropes early in the fourth. But, having survived that shock, Brook got back on to the front foot and put Senchenko down again with a hard right later in the round. This time there was no coming back for the man from Donetsk, with the American referee, Shada Murdaugh, stopping the fight and handing Brook his 31st straight win.

"I made a statement tonight," said Brook, who later suggested he would consider a domestic super-fight with Amir Khan over a mandatory challenge with Alexander. "He [Senchenko] is tougher than he looks but I outboxed him. I proved that I can compete with the best and nothing is going to stop me [becoming a world champion]. I'm ready."

Brook could become the fourth world champion to have graduated from Brendan Ingle's famous gym in the Wincobank district of Sheffield, following in the footsteps of Johnny Nelson, Junior Witter and Brook's childhood hero Naseem Hamed. In front of the watching Ingle, the boy who dreamed of following in the footsteps of the Prince is now on the verge of becoming a king.

Earlier, Anthony Joshua comfortably came through his second fight since turning professional. The 24-year-old, who won super-heavyweight gold at the London Olympics and beat the Italian Emanuele Leo with a first-round knockout in his first professional contest three weeks ago, stopped the veteran Paul Butlin early in the second round of their six-round bout, planting a left jab on the already bloodied 37-year-old before finishing him off with a powerful straight right.

"I'm still improving and this was valuable experience," said Joshua, who confirmed he will next fight on 14 November against a yet-to-be-confirmed opponent.

Meanwhile, another man who secured a world title shot on Saturday night was Brian Rose, with a controversial split decision victory against the Argentinian Javier Maciel. Rose came into the WBO light-middleweight eliminator on the back of an impressive points victory against Alexey Ribchev, but here the 28-year-old struggled to assert any control over an aggressive, sturdy opponent, who many at ringside felt had done enough to win. Nevertheless, it was Rose who got the decision and the Blackpool fighter will now face the winner of Demetrius Andrade and Vanes Martirosyan's contest for the vacant WBO title in Texas on 16 November.

Far more impressive was the super-middleweight Callum Smith, who stopped another Argentinian, Ruben Acosta, with a clubbing body shot in the sixth round. Smith, the youngest and, many believe, most talented of Liverpool's four fighting Smith brothers, had stopped all of his previous sixth opponents in the first round, so he benefited from more ring time here, albeit against an opponent who offered little threat.

There was also a victory for Kal Yafai against the Spaniard Santiago Bustos in what was the Olympian's first fight since injuring his bicep against Abigail Medina, another Spaniard, in March.

Source: www.theguardian.com/sport/2013/oct/27/kell-brook-vyacheslav-senchenko-boxing
Kell Brook defeats welterweight opponent Vyacheslav Senchenko with fourth-round stoppage in Sheffield
By Telegraph Sport, and agencies
Kell Brook bolstered his world title credentials with an eye-catching fourth-round stoppage win over Ricky Hatton's conqueror Vyacheslav Senchenko in his native Sheffield.


The unbeaten welterweight has been in the frame for a title shot for over a year but saw a fight with IBF champion Devon Alexander fall through three times due to injuries to both men.

Brook now hopes to secure a fight with the winner of Alexander's November 30 defence against Shawn Porter after an exciting performance which saw him knock Senchenko down twice - but get hurt himself too - at the Motorpoint Arena.

Brook's only other fight in 2013 was a comfortable win over Carson Jones in July. He found himself needing to win this IBF title eliminator against Senchenko despite having previously been made mandatory challenger for the belt.

Ukrainian former world champion Senchenko has been similarly inactive, fighting only once since ending Hatton's career with a ninth-round stoppage last November.

The veteran still harboured ambitions to win another world title himself but was up against it against the Sheffield man.

A cagey first round saw Brook stalk his man without landing much of note.

Senchenko, much the taller man, landed a couple of left hooks in the second but a right over the top from Brook was nicely delivered.

The fight ignited in the third. A right hand bloodied Senchenko's nose and had him hurt. Brook had the fire in his belly and built on his success, flooring Senchenko hard with a booming right cross.

Senchenko got up quickly but was up against it, Brook landing a hooking right to the head. Brook remained composed - but vicious - and had the Ukrainian reeling across the ring before landing a two hurtful uppercuts before the bell.

Brook was hurt in the fourth as his legs went to jelly very briefly after a nice right but he recovered well.

Indeed it was Senchenko who went down, Brook timing his jabs perfectly before a savage right hand and glancing uppercut had Senchenko down again. He again rose to his feet, but was on very unsteady legs as the fight was waved off.

On the undercard, Olympic super-heavyweight champion Anthony Joshua continued his professional apprenticeship with a destructive second-round stoppage win over journeyman Paul Butlin.

The Londoner beat Emanuele Leo comfortably with a first-round stoppage earlier this month and was obviously expected to make it two wins from two against Melton Mowbray's Butlin.

He did that in style, dominating the first round before forcing the technical knockout by putting Butlin down in the second and prompting the referee to end it.

Blackpool's Brian Rose controversially won his WBO light-middleweight title final eliminator against Argentinian Javier Maciel despite the majority in attendance seeing the away fighter as the clear winner.

Rose was hurt and bloodied early on and looked second best for much of the fight but took a split decision win with scores of 115-113 to Maciel and 116-113 and 117-111 to Rose - the latter tally frankly ludicrous.

Brook, whose record now reads 31-0 with 21 early wins, said afterwards: ''I believe I've made a statement here.

''When I hurt him I knew I could take my time. I nearly got lackadaisical and I got caught myself, but I thought 'I'm going to get you back for that'.

''I wasn't really hurt, it was just a bit of a buzz. But I'm fit and healthy and felt great tonight.

''I'm glad to have got revenge for Ricky.''

Senchenko drops to 33-2 (23KO wins).


Source: www.telegraph.co.uk/sport/othersports/boxing/10407117/Kell-Brook-defeats-welterweight-opponent-Vyacheslav-Senchenko-with-fourth-round-stoppage-in-Sheffield.html