News
MOHAMMEDI vs CHERVIAK NOV 30
07/11/2013 - 9.59.32
Mohammedi vs Cherviak in France
By Per-Ake Persson
Newly crowned French lightheavy champ Nadjib Mohammedi, 33-3 and WBA # 7, will take on Ukraine's Oleksandr Cherviak, 13-2-1, WBA # 6, November 30 in Aix-en-Provence (France) with the WBA Continental title at stake. The WBA still haven't come out in the open with its Continental title but it does exist.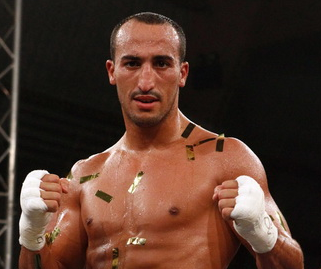 Mohammedi (pictured) is also mandatory challenger for the EBU title. Cherviak, promoted by K 2, rose in the ratings with a stoppage win over previously unbeaten Dustin Dirks but came in overweight and thus didn't win the WBA I/C belt Dirks was defending.
Mohammedi vs Chervyak is promoted by Boxingclub Larbi Mohammedi.
Per-Åke Persson