News
PERSSON'S EURO NEWS AND RESULTS
10/04/2014 - 23.22.50
Euro News
By Per-Ake Persson
Guyla Bozai (11-6-1) and Csaba Faur (6-2-1) clash for the vacant Hungarian cruiserweight title April in Budapest. This is a rematch of their first fight that ended in a draw and also won a Fight of the Year award on Hungarian television. In the co-feature on this Felix-Promotion show Zoltan Kovacs (10-4) take on Oszkar Fiko (8-5-0) with the national superfeather title at stake. Pick of the undercard is Attila Baran (14-8-0) vs Richard Baranyi (5-0) where the winner will be challenging for the Hungarian lightheavy crown. This show is the second of a program billed as "Hungarian Evening" where the idea is to match Hungarians vs Hungarians. It´s televised live by Sport TV.
It was announced April 8 that the fight for the vacant EBU middleweight title between Billy Joe Saunders (19-0) and Emanuele Blandamura (22-0) was moved from May 18 to May 10 with site remaining Liverpool. However, today the EBU informs that the fight is now on for July 26 with Queensberry still promoter.
ABC Calais (France) won the purse bids today in Rome with a bid for 70.050,00 Euro for the right to stage Romain Jacob's (21-0) defence of the EBU superfeather title against Belgian Ermanno Fegatilli (28-5). Antwerp Boxing Academy bid 65.000,00 Euro. When and where is to be announced within shortly. ABC Calais is headed by Thierry Jacob, Romain´s father, and himself a former World (WBC) and European champ.
Italian cruiser Mirko Larghetti (20-0) was reigning EU champ when he got the chance to take on WBO titleholder Marco Huck in a fight that was set for March 28 but was cancelled when Huck was injured in training. Larghetti had by then relinquished the title but will now take on Maurzio Lovaglio (16-0) for the now vacant EU title. The last date for purse bids is May 8 at noon.
French superbantamweight Ali Hallab, age 33 and 16-0-1, have announced his retirement. Hallab won the WBO Euro and WBC Meditteranean titles last year and was official challenger for the EU title but have decided to call it a day. Ali was an exellent amateur and participated in the Olympic Games 2004 and 2008 and medals in the European and World championships.
Euro Results
By Per-Ake Persson
April 5, Rostock, GER, Stadthalle, est 5000, Sauerland Event, FvA
Jürgen Brähmer, 8,7, Ger TKO 6 (not out) Enzo Maccarinelli, 78,8, UK
Brähmer retained the WBA regular lightheavy title when Welsh challenger Maccarinelli was retired by his trainer Gary Lockett between rounds five and six with his right eye swollen shut. Brähmer was ahead 50-45 on all cards after five. It was still an exciting fight with Maccarinelli´s punching power evident. The German was cut over the right eye in the first and either a thumb or an accidental clash of heads caused Maccarinelli´s eye to swell fast and the fight was in effect lost. Brähmer was a little faster in getting off but was momentarily stunned in third after a right before taking control again in what was a messy fight. Maccarinelli survived two inspections with the ringside physician. The eye had the size of an egg at the end and there was little point in letting it continue.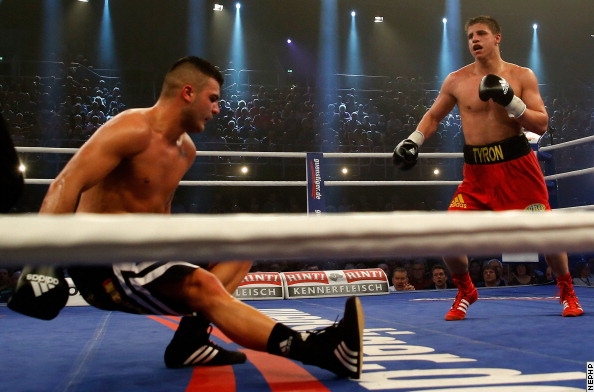 10x3: Tyron Zeuge, 76,2, Ger TKO 9 (0.37) Gheorghe Sabau, 74,7, Rom
Zeuge retained the WBO Youth title with a too easy stoppage over Sabau, an unschooled, wild southpaw who kept leading with his head. Sabau was down late in the first and second rounds after counterrights from Zeuge. In the sixth and eighth Sabau had points deducted for headbutts and a bodyshot put him down early in the ninth and the towel came in. Inbetween he was just outclassed. After eight it was scored 80-67 twice and 79-67.
8x3: Kubrat Pulev, 113,8, Bul TKO 4 (not out) Ivica Perkovic, 112,0, Cro
Perkovic accepted the fight the day before and was the final opponent after Eljiah McCall, Joey Daweicki and Kris Hughes all pulled out due to one reason or another. Perkovic, a decent spoiler, knew he was out of his league and acted accordingly with Pulev taking it before going for the body in the third and Ivica retired between rounds with a claimed hand or arm injury.
Jack Culcay, 69,8, Ger W12-U Salim Larbi, 69,6, Fra
117-111 on all cards and Culcay retained the WBA I/C but again failed to shine against a survivalminded fastmoving opponent. Jack was in good shape, worked hard but could never get Larbi in any kind of trouble
Enrico Kölling, 79,5, Ger W8-U Mirsat Bajrektarevic, 79,3, Cro
Kölling won all the rounds but seemed to treat as a glorified sparring session. Bajrektarevic, a southpaw, wasn´t very good and had Kölling went at it in his normal way he would have stopped him.
Soufiene Ouerghi, 72,5, Tun W8-M Dominik Britsch, 72,5, Ger
Ouerghi kept coming but was seldom effective while Britsch kept boxing on the move but ineffective and what seemed like a close fight went to Oerghi on an out of line 79-73 and 77-75 and 76-76. I had a draw. Britsch should have punched more and appears to be a lost man despite his 28-2-1 record.
8x3: Liam Williams, 70,1, UK TKO 8 (0.53) Yuri Pompilio, 69,0, Spa
Beating Pompilio is one thing - he´s a rather inept, awkward fighter but stopping him is something else as he is durable and have good stamina. Williams took him apart though and finally went for the body and then moved upstairs flooring his opponent in the last round and it was stopped.
Lewis Rees, 64,0, Uk D8-M Renald Garrido, 64,3, Fra
Garrido entered the ring as a lion and fought like one as well taking the action to the better boxer and puncher and made Rees fight all the way in an exellent show opener. Rees seemed to win it in my eyes but the judges awarded Garrido´s fighting spirit and had it 76-76 twice and 77-75 Rees. A rematch perhaps?
April 5, Abbeville, FRA:
h: Johan Duhaupas, Fra KO 7 Janne Katajisto, Fin
Duhaupas retained the EU title by knocking out brave Finnish challenger Janne Katajisto in the seventh. Duhaupas was well ahead on points by then.
sm: Jordhan Davril, Fra W 4 Grzegorz Sikorski, Pol
April 5, Moulins, FRA:
l: Julien Chaput, Fra W 4 Matthieu Lehot, Fra
April 5, Bayeux, FRA:
sm: Valentin Freulon, Fra W 6 Gabriel Lecrosnier, Fra
April 5, Gisors, FRA:
m: Andrew Francilette, Fra W 4 Oladimeji Akinde, Fra
h; Jonathan Sauteur, Fra W 4 Bwana Tshilenge, Fra
m: Flavien Bruno Bokongo, Fra D 4 Omar Zahraoui, Fra
April 5, Issoudun, FRA:
m: Idaas Redjdal, Fra W6-U Benjamin Poitou, Fra
m: Nordine Samoudi, Fra D 6 Youssouf Doumbia, Fra
sl: Denis Farias, Fra W6-U Yves Mesny, Fra
1/1 TF, w: Mihail Orlov, Fra W6-U Sandy Messaoud, Fra
April 5, Corbeil Essonnes, FRA:
l: Dame Seck, Fra W 6 Romain Peker, Fra
April 5, Vendome, FRA:
sm: Maurice Possiti, Fra W 6 Kevin Buval, Fra
sw: Nordine Arik, Fra W 6 Patrick Momene Mokamba, Fra
c: Mamadou Ba, Fra W 4 Stephane Grimpard, Fra
4x2, l: Bilitis Gaucher, Fra W 4 Laura Godbillon, Fra
April 5, Verquin, FRA:
sw: Gregory Trenel, Fra W 4 Mohamed Tabib, Fra
April 5, Le Houlme, FRA:
w: Ludovic Duval, Fra W 10 Kobe Vanderkhove, Bel
m: Romain Tilliot, Fra W 4 Nicolas Larmet, Fra
April 5, Aix Les Bains, FRA:
sm: Nicolas Dion, Fra W 6 Gaetan Guerin, Fra
w: Baptiste Castegnano, Fra W 4 Khalid Graidia, Fra
l: Jaber Zayani, Fra W 4 Said Tanji, Fra
April 5, Troyes, FRA:
m: Jaoid Chaguer, Fra W 6 Mariusz Biskupski, Pol
April 5, Saint-Vaast-la-Hogue, FRA:
w: Mohamed Barka, Fra W 6 William Lereverend, Fra
sl: Diego Requier, Fra W 4 Karim Idder, Fra
April 5, Henin Beaumont, FRA:
lh: Mathieu Bauderlique, Fra W 8 George Kandelaki, Geo
6x3, sw: Bernard Follea, Fra TKO 5 Mickael Sanches, Fra
lh: Mehdi Amar, Fra W 6 Mile Nikolic, Ser
April 5, Campbon, FRA:
8x3, w: Sebastian Allais, Fra W dq 2 Ruben Movsesian,
sl: Steven Bloyer, Fra W 6 Shavlego Tsamalaidze,
h; Franck Acho, Fra W 4 David Gegeshidze,
April 5, Bilbao, SPA:
6x3, l: Andoni Gago, Spa TKO 5 Alae Karmoun, Spa
c: Asier Lopez Molero, Spa W 4 Carlos Caicedo, Spa
sw: Denis Sukhanov, W 4 Sergio Abad,
April 5, Gijon, SPA, Gallego Prada Promociones / Tundra
sl: Juan Luiz Gonzales, Spa W 6 Jose Acero, Spa
sm: Juan Manuel Iglesias, Spa W 4 Nordin Abderrahman,
w: Alejandro Suarez, Spa W 4 Ion Micu,
4x3, lh: Jose Miguel Fandino, Spa TKO 2 Jonathan Castano, Spa
April 5, Kerkrade, NTH,
?: Somay Bilal, KO 3 Suleyman Dag,
April 5, Gizycko, POL; First Round Promotions
sm: Przemyslaw Opalach, Pol W10-U Baker Barakat, Ger
vacant WBC Baltic silver title, scored 100-87, 100-89 and 99-88 over nothing much Barakat, who was down three times during the fight.
c: Tomasz Duszak, Pol W6-U Jonathan Pasi, Ger
sm: Daniel Bocianski, Pol, debut W4-U Mustafa Dogan,
m: Wojciech Niedzielski, Pol, debut D 4 Aleksander Binkowski, debut
4x3, c: Michal Gerlecki, Pol TKO 2 Remo Arns,
April 5, Ciudad Delicias, MEX:
m: Marco A Rubio, Mex KO 10 Domenico Spada, Ita
vacant interim middleweight title, 40-36 twice and 39-37 after four for Rubio, 80-72, 79-71 and 78-72 after eight. Rubio knocked out Spada in the tenth with a left cross.
April 5, Diepoldsau, SWI:
Enes Zecirevic, 78,1, Bos/Swi KO 3 Istvan Zeller, 78,4, Hun
no medical suspension recommended for Zeller.
April 4, Saint Maur, FRA:
Karim Merroudji, Fra W 8 Lajos Munkacsy, Hun
Ala Moussa Edine, St Maur, Fra W6-S Gallus Coulon, Elancourt, Fra
l: Jean Gomis, Fra TKO 4 Virgil Degonzaga, Fra
April 4, Villenave d´Ornon, FRA:
sw: Mahmoud Khayat, Fra W 4 Sabrie Ben Boubaker, Fra
f: Joel Cazeneuve, Fra, debut W 4 Jean Noel Alvarez, Fra
April 4, Saint-Chamond, FRA:
sl: Kristian Matija, Fra W 4 Mehdi Kassimi, Fra
April 4, Torrevieja, SPA:
l: Emiliano Casal, Spa TKO 5 Andoni Alonso, Spa
Casal retained the Spanish lightweight title
April 4, Aldaia, SPA:
l: Sonni Martinez, W 6 Ryan Peleguer, Spa
April 4, Fuenlabrada, SPA:
f: Sergio Romero, Spa W10-U Kiko Amarillo,
interim WBC Latin featherweight title, 96-94 twice and 97-93.
c: Adasat Rodriguez, Spa D 6 Pablo Sosa, Spa
6x3, sl: Ruben Nieto, Spa TKO 4 Fran Gonzales, Spa
b: Eric Pambani, W4-U Franklin Varela, Spa
lh: Carlos Esteban, Spa W4-U Raul Martinez, Spa
sb: Alvaro Rodriguez, Spa W4-U David Orgaz, Spa
b: Juan Hinostroza, Spa W4-M Samuel Escobar, Spa
April 4, Parsippany, NJ:
10x3, m: Antoine Douglas, US TKO 2 Luca Messi, Ita
April 4, Phila, PA:
w: Edner Cherry, US W8-U Robert Osiobe
79-73, 78-74, 77-75
April 4, Pavia, ITA:
Gianluca Frezza, 66,5, Ita W 12 Giacomo Mazzoni, 66,2, Ita
vacant WBC Med welter title, scored 115-110, 115-111 and 114-111. Frezza lost a point in round seven while Mazzoni had points deducted in the fourth and ninth.
Anita Torti, 60,8, Ita W 10 Monica Gentili, 60,2, Ita
Inaugural Italian female lightweight title.
April 2, Riga, LAT, Rigas Ring, GENS (Vitalijs Maslennikovs),
6x3: Erik Nazaryan, 79,9, Bel/Lat TKO 1 (1.33) Renis Stutans, 77,2, Lat
Stutans was floored twice and then retired.
6x3: Janis Puksins, 63,6, Lat TKO 2 (1.43) Andrejs Potapovs, 64,0, Lat
10-9 Puksins after one, Potapovs floored twice in the second.
4x3: Jevgenijs Aleksejevs, 79,9, Lat TKO 1 (1.56) Dmitry Savenko, 81,0, Rus, debut
Savenko down twice.
4x3: Nikolajs Korpacovs, 81,1, Lat TKO 2 (1.50) Juris Kirins, 83,5, Lat
10-9 for Korpacovs. Kirins was floored in the second and then retired.
4x3: Ravil Mukhamadiarov, 61,5, Rus TKO 2 (0.49) Vladimirs Deicuks, 64,1, Lat, debut
10-9 M, Deicuks knocked down in the second.
4x3: Vitalijs Parsins, 75,6, Lat TKO 3 (not out) Maris Eizenbergs, 78,2, Lat, debut
20-17 Parsins after two, Eizenbergs retired and didn´t come out for the third.
4x3: Ivan Levickis, 63,5, Daugavpils, Lat TKO 1 (0.51) Olegs Vilcans, 62,8, Lat
Vilcans was knocked down and then retired.
4x3; Andrejs Volincuks, 71,9, Ventspils, Lat TKO 3 (2.26) Dmitrijs Odinokijs, 73,5, Riga, Lat
20-18 for Volincuks after two.Volincuks was floored in the third but then knocked down Odinokijs and it was stopped.
4x3: Maksims Gusciks, 77,0, Lat TKO 1 (2.05) Dmitrijs Avsijenkos, 76,4, Lat
Sergejs Malcevs, 69,1, Lat W 4 (40-36) Vladislavs Polaruss, 70,0, Lat debut
4x3: Andrejs Tolstihs, 81,0, Lat TKO 1 (1,40) Arturs Perihs, 80,9, Lat
Perihs was floored and then retired.
4x3: Zaurs Dzavadovs, 77,2, Lat TKO 1 (0.57) Konstantin Jurkovs, 75,0, Lat
March 29, Jerzu, ITA:
m: Alessandro Goddi, Ita W 6 Laszlo Szekeres, Hun
Goddi used to be known as Murgia but changed his last name this past December.
March 29, Morcenx, FRA:
1/2 CE, sw: Franck Jeanmougin, Fra W 4 Joachim Elkaim, Fra
March 29, Noumea, New Caledonia, FRA:
?: Affif Belghecham, Fra W 6 Letoa Togasilimai, Samoa