News
PERSSON'S EURO NEWS AND RESULTS
08/05/2014 - 23.12.01
Euro News
By Per-Ake Persson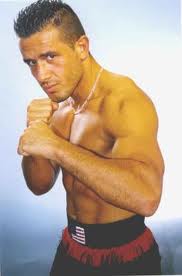 Nuri Seferi (35-6-1) goes for the vacant WBO European cruiser title May 16 at the CU Hall in Hamburg when he takes on Hungarian Tamas Lodi (13-1-1). Seferi (pictured) is trained by former EBU champ and world title challenger Oktay Urkal and is reported by boxen-heute.de to have done ten rounds of sparring against four different sparring partners yesterday and done well. Romanian feather Viorel Simion (16-1) take on Bakhtiyar Iskenderzade (a claimed 9-3) in a ten rounder and Swedish heavyweight Adrian Granat (3-0) is in against Austrian Andreas Kapp (4-2-1) on the undercard.
******************************
Queensberry Promotions headed by Frank Warren won purse bids today in Rome for the right to stage Leonard Bundu's (30-0-2) defence of the title against Frankie Gavin (19-0) with a bid for 110 000 Euro. Double A Promotions, also from the UK, bid 80 000 Euro and Italian Boxe Loreni bid 58 500 Euro. Date and site is to be announced.
******************************
WBA regular lightheavy champ Juergen Brahmer defends the title June 7 in Schwerin against an opponent still to announced. A not confirmed rumor says he will take on unranked Argentinian Roberto Feliciano Bolonti. There will be a press conference on Monday (May 12) where the rumor most likely will be confirmed or denied. Also participating in this press conference are WBO Youth supermiddle titleholder Tyron Zeuge, WBO Youth ruler at cruiser Noel Gevor and lightheavy Enrico Koelling so it must be a safe bet that these three will be featured on the undercard.
******************************
EU lightheavy champ Erik Skoglund will defend the title against Stefano Abatangelo but when and where is to be announced. There were to have purse bids today in Rome but the parties came to an agreement and the fight will be staged by Team Sauerland.
Euro Results
By Per-Ake Persson
May 3, Berlin, GER, Tempodrome, est 5000, Sauerland Event, FvA
Arthur Abraham, 76,1, Ger W12-U Nikola Sjekloca, 76,2, Mne
Abraham retained the WBO title on scores of 116-112, 119-110 and 116-113. Abraham made a slow start and never opened up apparently hampered by an injured right hand. Sjekloca worked hard and tried to outjab Arthur and went for the body but lacked strength and power although it looked closer than the judges had it. No knockdowns and little drama with Abraham showing a strong and controlled boxing to seal a close win.
Noel Gevor, 89,2, Ger W10-U Gogita Gorgiladze, 88,8, Geo
Gevor won the vacant WBO Youth title on scores of 100-90 twice and 99-91 after a dull fight and why Sauerland again used the inept Gorgiladze is a good question.
12x3: Timo Schwarzkopf, 63,5, Ger KO 1 (2.47) Anzor Gamgebeli, 61,5, Geo
Schwarzkopf won the vacant EE title and how a guy like Gamgebeli can get a title shot is another good question.
Eduard Gutknecht, 80,0, Ger D8-S Pablo Sosa, 79,3, Spa
77-75, 77-77, 75-77. Gutknecht started well but once Sosa got going he took over and had the German under pressure in the sixth. Gutknecht was forced to go all out to salvage a draw.
8x3: Dennis Ceylan, 57,1, Den KO 1 (2.40) Dmitry Agafonov, 55,8, Blr
Agofonov, a tiny guy, flopped over after some bodyshots in another gross mismatch.
4x3: Burak Sahin, 109,5, Ger TKO 1 (2.17) Zoltan Jerousek, 101,5, Hun
Jerousek was floored three times.
May 3, Hangelsberg, GER, Müggelspreehalle, Berlin Bern Sportpromotion (Michael Handsch) gba
sw: Rico Schultz, Ger KO 2 Joseph Sinkala,
GBC 154 lb title
10x2, l: Derya Seki, Ger TKO 7 Flora Machela,
GBC female lightweight title
sl: Jennifer Retzke, Ger W10-U Everline Odero,
vacant GBC female superlightweight title
sw: Michel Trabant, Ger W6-U Pietro d´Alessio, Ger
4x3, lh: Denny Lehmann, Ger TKO 1 Milan Ruso, Cze
lh: Vartan Avetisyan, Ger W 4 Ismael Altintas,
4x3, w: Aghvan Alvrtsyan, Ger KO 1 Kemal Faik, debut
lh; Samir Said, Ger W 4 Andy Thiele, Ger
4x3, m: Sebastian Formella, Ger TKO 2 Pavel Herman,
May 3, Lille, FRA:
l: Dame Seck, Fra W 6 Reda Azzaoui, Bel
6x3, c: Alhassan Essumbu Ingange, Fra W dq 5 Mario Lakatos, Slo
c: Mohamed Kabech, Fra W 6 Cedric Kalonji, Fra
sf: Rachid Sali, Fra W 4 Maxime Ernoult, Fra
May 3, Rumilly, FRA: Salle l´Albanais
sw: Anderson Clayton, Bra D12-S Sebastien Madani, Fra
Clayton retained the WBFed title on scores of 114-112, 113-113 and 114-112 for Madani, who was heavily floored in the ninth.
Mehdi Madani, Fra W 6 Frederic Jacquin, Fra
May 3, Rouen, FRA:
w: Romain Nemery, Fra W 4 Mohamed Tabib, Fra
sw: Sophyan Haoud, Fra W 4 Antonin Gonel, Fra
m: Andrew Francillette, Fra W 4 Gadzimurad Ibraguimov,
May 3, Floreffe, BEL:
10x3: Bilal Laggoune, 90,6, Bel TKO 9 Christophe Dufaux, 88,7, Bel
Belgian cruiserweight title.
w: Bogdan Galaev, D 6 Houssain Ghulian,
May 3, Troyes, FRA:
sw: Jaoid Chiguer, Fra W 8 Jean Bernad Vandenbusshe, Fra
May 3, Halberstadt, GER, Hotel Spiegelsberge, Profifight Sports (Tino Groth) / Klaus Haberland (Boxcamp Halberstadt), supervisor: the Czech Federation (not sure if there´s more than one)
12x3, h: Ratko Draskovic, KO 2 Peter Hegyes,
vacant WBU german heavyweight title
sw: Predrag Kovacevic, TKO 3 Omar Siala,
vacant WBU superwelter title
4x3, sm: Moritz Stahl, TKO 1 Josef Krivka,
sl: Dennis Dauti, W4-U Mladen Zivkov,
May 3, Catania, ITA:
m: Giuseppe Brischetto, Ita W6 Laszlo Szekeres, Hun
May 2, La Coruna, SPA:
sm: Xavier Ferreiro, Spa W10-U Ivan Salcines, Spa
Vacant Spanish supermiddle title, scored 97-93, 97-92 and 100-90.
sl: Juan Zapata, Spa W 6 Santos Medrano, Spa
sw: Alberto Pineiro, Spa W 4 Nordin Abderrahman,
May 2, Gatteo, ITA:
m: Matteo Signani, Ita TDr 3 Istvan Szili, Hun
The vacant EU title remains vacant as it is stopped as Szili is badly cut after an accidental clash of heads.
h: Matteo Modugno, Ita TKO 2 Ferenc Zsalek, Hun
h: Gonzalo Omar Basile, Arg TKO 1 Vitalijs Zakirko, Lit
m: Nikola Matic, Cro TKO 5 Lucas German Priori, Arg
April 26, Aachen, GER, Museum Zinkhuetter Hof, Pound4Pound Boxpromotion (Mario Guedes, gba
sw: Jessica Balogun, Ger TKO 2 Edita Lesnik, B & H
WFC title
Per-Åke Persson