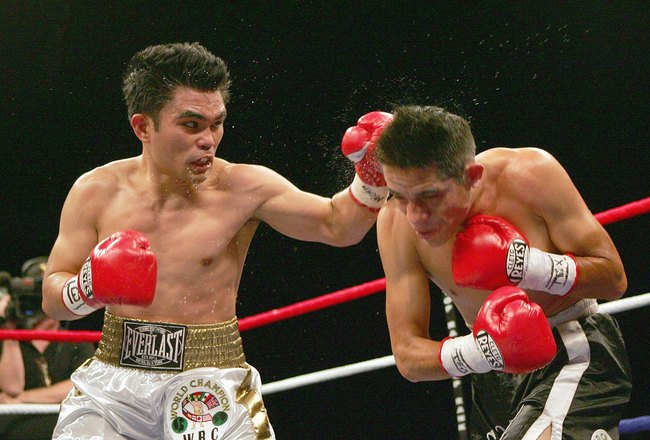 Brian Viloria at left
Jed Jacobsohn/Getty Images
Viloria had dominated the fight starting from the second round until the referee stopped the fight in the eighth round. Segura had difficulty with his eye which was hampered by the swollen portion of his face near the right ear as a result of power combinations by Viloria in the early rounds.
Except for the first round—which could be called an even round by the judges—it looked like all the other rounds went to Viloria.
It was Viloria's fourth win since losing against Carlos Tamara in January 2010 in a fight held at the Cuneta Astrodome in the Philippines.
The Filipino-American champion, who was born in Waipahu, Hawaii in 1980, was a member of the 2000 US Olympic Team before turning professional in 2005
Before the start of the fight—which was attended by eight-division champion Manny Pacquiao—who served as TV coverage anchor along with Chino Trinidad and Quinito Henson—said it was hard to stay as champion but he is determined to win over the Mexican fighter.
"It's hard to stay a champion but I'm determined to hold the title for a longer period of time. I'm now taking every fight seriously. And it will start with Giovani because this is a very important fight for me," Viloria said before the fight.
Segura, who turned professional in 2003, has accumulated a record of 18–0–1, which included a win against future champion Carlos Tamara, who dethroned Viloria in Jan. 2010.
His 18-fight winning streak was cut short by his lone loss to Cesar Canchila in 2007 followed by a nine-fight winning run.
With Viloria's win over Segura, the "Hawaiian Punch" now has a ring record of 30-3-0 with 16 knockouts.