Dewey Bozella, who spent 26 years in jail for a murder he didn't commit, has won his first professional fight aged 52 in Los Angeles.
The 52-year-old Bozella won the four round bout by a unanimous decision despite giving away 22 years in age to Hopkins, who was competing in his fourth professional fight.
'This is the greatest moment of my life,' Bozella said after the bout at the Staples Centre.
The fight was on the undercard of the Night Of Greybeards with 46-year-old world champion Bernard Hopkins against Chad Dawson for Hopkins' WBC light heavyweight title, the main event.
'I would like to thank everyone for everything they have done for me,' said Bozella who trained with Hopkins leading up to the fight.
Bozella did some boxing as an amateur but his professional ambitions were crushed when he was wrongly convicted of murder.
He was sentenced to 20 years to life in New York's infamous Sing Sing prison after being wrongly convicted in 1983 of breaking into the house in 1977 of a 92-year-old woman and killing her.
Prosecutors offered him a plea deal at the time that would have reduced the sentence to time served but Bozella refused to admit to something he didn't do.
He says he was bicycling miles away at the time.
In October 2009, his conviction was overturned when witnesses recanted their stories and he walked out of jail a free man.
Source:www.bigpondsport.com/free-man-bozella-wins-boxing-debut-at-52/tabid/91/newsid/78885/default.aspx
Dewey Bozella wins pro boxing debut
LOS ANGELES -- Dewey Bozella landed a hard right cross on his opponent's jaw at the final bell, and the 52-year-old boxer raised his arms in victory.
After 26 years behind bars for a murder he didn't commit, Bozella triumphantly realized a dream deferred in his first and only professional fight.
Bozella won his pro boxing debut Saturday night, beating Larry Hopkins by unanimous decision in the latest stunning chapter of a remarkable life.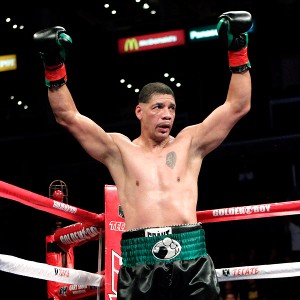 AP Photo/Jae Hong
Dewey Bozella raises his arms in the fourth round of a boxing match with Larry Hopkins in Los Angeles. Bozell, 52, won his debut by unanimous decision after 26 years wrongfully in prison.
"I used to lay in my cell and dream about this happening," Bozella said. "It was all worth it. It was my dream come true."
Bozella caught the eye of Golden Boy Promotions, which is promoting the Oct. 15 card, after his life was chronicled in July on ESPN's annual ESPY Award show. Bozella was honored with the Arthur Ashe Courage Award on the show.
Wrongfully convicted of killing 92-year-old Emma Crapser in 1983, Bozella earned two college degrees and became the light heavyweight champion of Sing Sing before he was exonerated in 2009.
Golden Boy fulfilled Bozella's dream by putting him on the undercard of Bernard Hopkins' bout with Chad Dawson. His victory, punctuated by that devastating punch to Larry Hopkins' head at the final bell, brought the crowd to its feet.
"This was my first and last fight," said Bozella, who lives in Newburgh, N.Y. "It's a young man's game. I did what I wanted to do, and I'm happy. I appreciate everybody that made this possible. This has been one of the greatest experiences of my life."
Despite a complete lack of physical evidence, Bozella was convicted of killing Crapser on her way home after a night out playing bingo. He maintained his innocence throughout a quarter-century behind bars, even turning down a plea-bargain offer in 1990 that would have required admitting guilt, until his conviction was overturned.
Bozella battered the winless Hopkins throughout the second half of their four-round fight. Hopkins, no relation to Bernard Hopkins, also lost points for losing his mouthpiece six times in the final round, apparently exhausted and unable to match Bozella's conditioning.
"This guy is an incredible athlete, a remarkable man," said Bernard Hopkins, the 46-year-old light heavyweight champion who trained with Bozella in recent weeks. "I spent five years in the penitentiary, but not for something I didn't do. We understand what it takes to overcome your circumstances. Unless you've done it, you can't understand it. I have all respect for what Dewey has done with his life."
Bozella didn't have a younger man's hand speed, but he moved with a confident ease and showed strong technique in the ring, constantly moving his head and outmaneuvering Larry Hopkins. Both cruiserweights absorbed big shots in the first two rounds, but Bozella was never hurt beyond a welt near his left eye.
Bozella dominated the fourth round, even finishing the final seconds in style. After Hopkins spit his mouthpiece into the air and flailed at it with his boxing gloves, Bozella decked him with a right cross at the bell, leaving Hopkins woozy on the ropes.
With his family and friends gathered around him in the ring, Bozella raised his gloves in victory when the judges favored him 39-36, 38-37 and 38-36.
Bozella has never lived without tragedy. His father beat his pregnant mother to death when he was 9 years old, and two of his brothers were murdered on the Brooklyn streets.
Four months after he moved to Poughkeepsie, N.Y., in 1977, he was suspected of killing Crapser, but not indicted by a grand jury. Bozella cleaned up a life of petty crime and embraced boxing at a gym run by former heavyweight champion Floyd Patterson, but he was arrested and convicted of Crapser's murder in December 1983 on the strength of false testimony from other convicts.
Bozella's story attracted the attention of Oscar De La Hoya and his business associates, who arranged for Bozella to fight in Los Angeles after he passed the California State Athletic Commission's fitness requirements.
Although the crowd loved Bozella's fight, he said he had "done what I needed to do." He hopes to spend his life training fighters in Newburgh.
"I'm going to concentrate on the Dewey Bozella Foundation, which really means opening a gym in my town," Bozella said. "Because there are no gyms, and I'd like to see kids who are on the street have something productive to do. No more fighting for me."
Source: espn.go.com/boxing/story/_/id/7108340/exonerated-ex-con-dewey-bozella-wins-pro-boxing-debut-52