There were a lot of good fights, belts changing hands and, of course, controversial endings in 2011.
Here are my most memorable moments from the last 12 months...
Fight of the Year
My pick for FOTY was in the flyweight division when WBA flyweight title holder Hernan Marquez took on Luis Concepcion in April. It was action packed for 11 rounds with both fighters on the deck in the opening round. Concepcion was down again in the third and the 10th before being stopped in the 11th. The fight took place in Concepcion's home country of Panama. Six months later they did it again this time in Mexico. Marquez got a quick knockout win, flooring Concepcion three times in the first round and the fight was stopped. In my opinion these little guys deserve it because they don't get the big money or exposure the heavier weight classes get.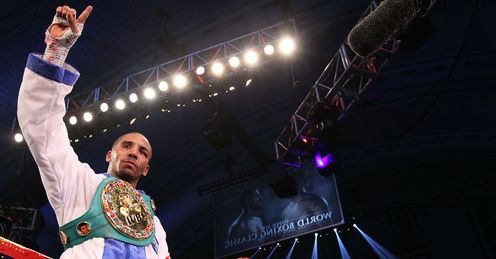 There are a couple of honorary mentions in this category too. Victor Ortiz v Andre Berto also took place in April. Berto was down in the first, Ortiz was down in the second and they were both down in the sixth. Ortiz pulled out a decision win and they are getting ready to do it again in early 2012. April was a busy month this year with another great fight between Juan Manuel Lopez v Orlando Salido. This was a big upset win for Salido who had Lopez down in the fifth and went on to score an eighth-round stoppage even though it was a quick one. It was the first loss for Lopez and they will fight a rematch in Puerto Rico (the home country of Lopez) in March 2012.
Knockout of the Year
The fight between Rico Ramos and Akifumi Shimoda that took place in July gets my vote for KOoTY. Shimoda was making the first defence of his WBA super bantamweight belt. Ramos, from California, was well behind on all three judges' cards when he landed a left on Shimoda's chin in round seven, knocking him out.
An honorary mention in the KOoTY goes to Nonito Donaire v Fernando Montiel
which took place in February. Donaire had only fought once at the new weight of bantam. Montiel won the WBO belt and had added the WBC to that two fights before the Donaire fight. Donaire came out controlling the fight in the first, then in the second he landed a left hook badly dropping Montiel. He staggered to his feet and a few shots later the fight was over. It wasn't an upset as Donaire was favourite and #5 pound for pound, whereas Montiel was the underdog and #7 pound for pound. But it was a quick knockout win for Donaire.
Upset of the Year
James Kirkland v Nobuhiro Ishida gets my vote for UOTY. Kirkland was 27-0 going into this fight with Ishida, from Japan. Ishida had six losses out of 30 fights and Kirkland had home advantage with the fight being in the States. This fight didn't last long as Ishida put Kirkland down three times in the first. About 20 seconds into the round Ishida hurt Kirkland and dropped him with a left. He didn't really recover from that and went down two more times to prompt the stoppage.
Jorge Arce v Wilfredo Vasquez Jr in May was another great contender for UOTY. Vasquez was unbeaten and Arce was the underdog. The fight was action packed and very close. Arce was down in the fourth but got up to force a stoppage win in the 12th. With just under a minute to go, Vasquez was out on his feet when the fight was stopped but he didn't go down. His trainer, dad and former champion Wilfredo Vasquez Sr, threw in the towel as he was against the ropes.
Round of the Year
In November James Kirkland fought Alfredo Angulo. This could also have been a candidate for FOTY. Round one was amazing as both guys came out swinging looking for the win and both hit the deck in the opening round.
An honorary mention in this category goes to Hernan Marquez v Luis Concepcion during their first fight in April. Just like in FOTY both were on the canvas in the first in an all-action opening round. Marquez went on to win.
Comeback of the Year
Since getting knocked out in January 2010 and losing his IBF flyweight belt, Brian Viloria won two fights in 2010 and another two in 2011 picking up the WBO world title in July this year up in weight at flyweight.
Honorary mention in this category goes to Erik Morales. It's hard to believe I fought Morales in October 1999 at 122lbs especially when he made his comeback to the ring in March 2010 at 147lbs. This year has to standout for Morales as he faced puncher Marcos Maidana and took him 12 rounds for the Interim WBC light welterweight title. I thought he won but Maidana was awarded the win. Five months later Morales became the first Mexican to win four belts in four divisions when he stopped Pablo Cano in 10 rounds. Morales may not be the fighter he was at super bantamweight (and then super featherweight) but he has one of the biggest hearts
in boxing.
Fighter of the Year
Andre Ward
had two wins in 2011 in Showtime's Super Six Classic. He defeated Arthur Abraham
in May then beat Carl Froch
on December 17 to win the tournament and stay unbeaten in his still young career. At just 27 years old, Ward was an underdog at the start of the Classic but ended up as the victor and in my opinion he has improved so much that he should now be on the top 10 pound-for-pound list.
In other 2011 boxing news, Sergio Martinez had two wins this year but couldn't get the big names to fight him so I believe he should still move up the pound for pound ranks.
The over 40 club!
Roy Jones Jr will be 43 in January and is still fighting. He got knocked out in May by Denis Lebedev, came back in December winning a fight on points to unknown Max Alexander - which proved nothing. He hasn't really looked the same since his two back-to-back KO losses to Antonio Tarver and Glen Johnson
in 2004.
Evander Holyfield, 49 years old, defeated Brian Nielsen this year and got a no contest against Sherman Williams where he was behind on the cards. The fight was stopped after three rounds when Holyfield's eye was cut by headbutt. I personally think he wanted out as cut wasn't that bad.
Francois Botha, 43 years old, just got knocked out by Michael Grant who is half done himself. Botha was winning he fight then got knocked out with just over 30 seconds left in the fight.
Antonio Tarver, 43 years old, had one win in 2011. He stopped Danny Green
but at least still looks like he has something left in the tank.
The King of the Over 40 club, Bernard Hopkins,
Wayne McCullough

:

Source: www.skysports.com/opinion/story/0,,12533_7406924,00.html